I wouldn't call myself a beer connoisseur. More of a cross-sectional consumer, but I do like to sample a little bit of everything and the Philippines has a few very good beers. All come with little paper hats… which possibly serves some sort of sanitary purpose? Maybe to keep out flies while sitting on the bar waiting to be delivered? Perhaps to mop up the condensation which inevitably drips off the bottle and into your lap? No, it's actually just so you can wipe off the lip of the bottle…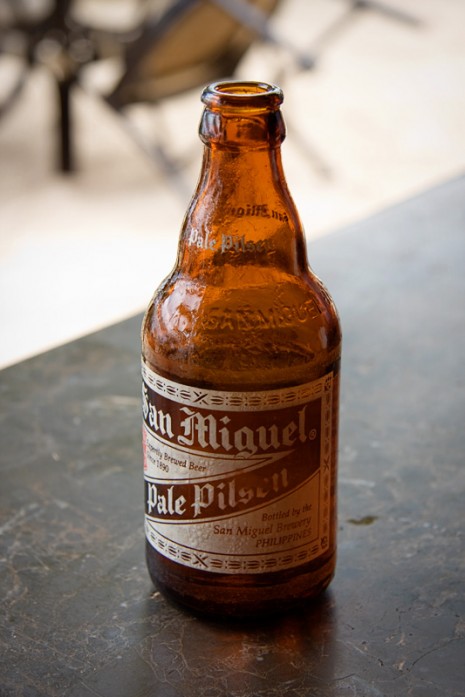 San Miguel Pilsen – Long live the stubby bottle! The standard beer of the Philippines. Ranges from P25 to P65  (Approx $0.50 – $1.50) depending how touristy the bar is. Light and refresing. Available on every corner in the Philippines and in British Columbia at most government liquor stores. An amusing tagline on the back of most bottles reads, "A truly satisfying beer with a refined well-balanced flavor. Perfected and brewed for over a century. The only beer that nourishes true Filipino friendships."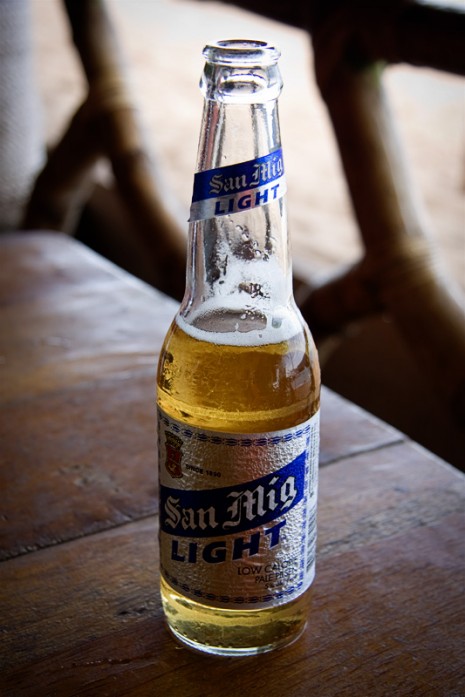 San Miguel Light – Also a pale pilsen, but with only 100 calories per bottle. Still 5% alcohol. Under the label reads, "You hold in your hands the first light beer in the country and the only light beer you should have. Expertly brewed by San Miguel with full beer flavor and the right alcoholic hit. Made less filling for your total drinking enjoyment. The perfect balance between right and light."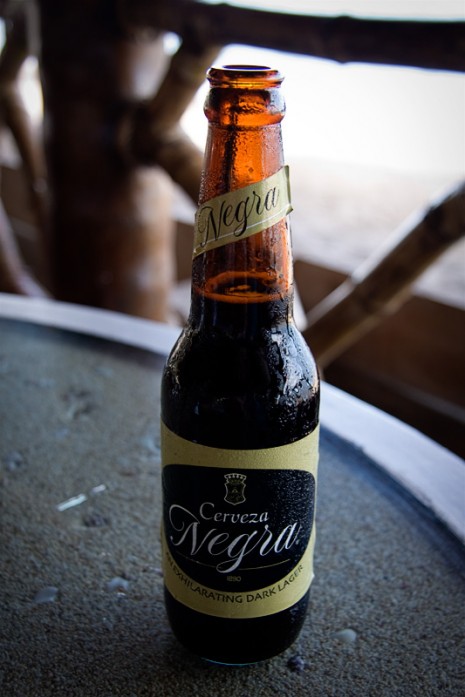 Cerveza Negra – A super malty dark lager from San Miguel. Sweet to the taste. Very good dessert beer, or when craving something heavier than a pilsen. The label reads, "Cerveza Negra. An exhilerating dark lager. Cerveza Negra is the taste of a robust spirit. It is distinguished by the fullness of its flavor, the caramel tones that tease the palate, and the rich creaminess of its foam. It is a dark lager unlike any other. Undeniably, Cerveza Negra is meant for you."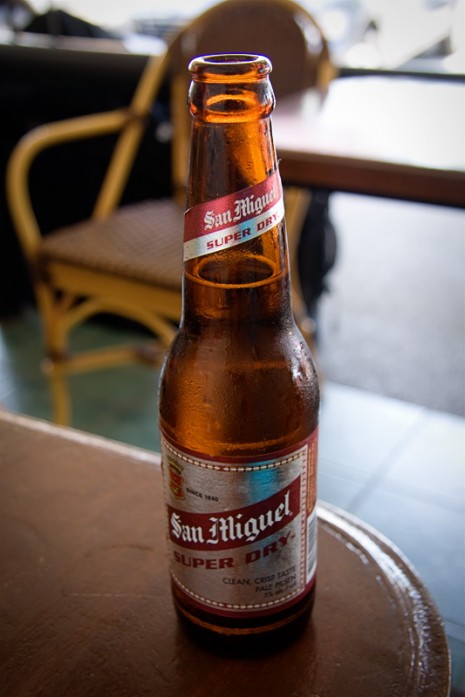 San Miguel Dry – Unfortunately I haven't come across a quirky tagline on these bottles yet. And to be honest, I can't tell the difference between San Miguel Dry and San Miguel Pilsen… but then I've never used the word 'dry' to describe a liquid.
Red Horse – Also from San Miguel, it's simply sold as a 'strong' beer, but no alcohol content is listed on the label. While it doesn't taste like a 10 or 12 percent beer, it's definitely more potent than the others… guaranteed from personal experience. Usually comes in a 500ml bottle instead of the standard 350ml.
Everywhere carries the San Miguel Pilsen and San Miguel Light. The Negra and Dry are rarer and Red Horse seems to mostly be carried in the many convenience stores attached to people's houses selling snacks, water, and soft drinks. Imported beers are available, but rare. At the Mexican restaurant last night they carried Corona, and Guinness in a can.
Salud!