Saturday morning we left for Siquijor. A small island about 45 minutes from Dumaguete. We got up early and took a trike into town, had breakfast and then headed to the pier. We had planned to take one of the larger car ferries because we heard they were reliable and unlike the fast ferries there is room to walk around, stretch your legs and check out the view from the open decks. However, when we arrived at the pier we were informed that the 10am ferry was cancelled during low season, so instead we ended up taking one of the Delta Fast Ferries, instead.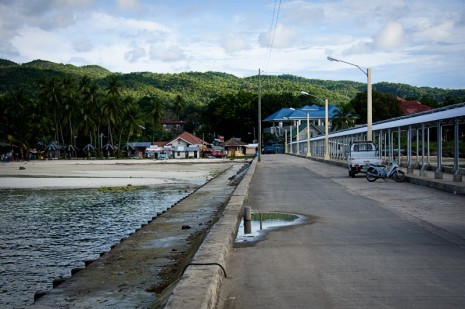 When we arrived at the port in Siquijor, as usual we were greeted by a bunch of trike drivers all vying for our business. We settled on a price and hopped in for the bumpy ride to the northern end of the island. Normally the roads on Siquijor are quite good, but while we were there they were doing quite a bit of construction on the road between Siquijor Town and Sandugan Beach.
Sandugan Beach is a white sand beach shared by three resorts. Kiwi Dive Resort, Islander's Paradise, and Casa de la Playa. We chose Casa de la Playa, a cute little mediterranean-ispired resort with cottages on the beach, as well as a few scattered through the hilltop garden. If you're looking for something a little cheaper and very basic, both Kiwi and Islander's are good options.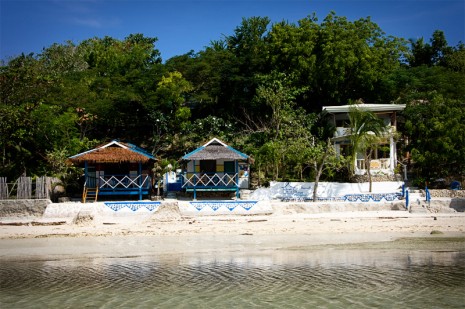 Much like everywhere else we've been things were quite quiet. We had lunch in the resort restaurant while we waited to check into our room, and were the only ones around.
The restaurant itself was really cute, however the food was a little bit disappointing as they seemed to be out of a lot of things on their menu. That night at dinner I had to order three times till I found something they actually had. I'm not sure if that was due to it being low season, or what, but it put us off a bit and we ended up eating most of our meals down the beach at Kiwi. The food there wasn't much better, however the quaint little beach bar, and the beautiful sunsets more than made up for it.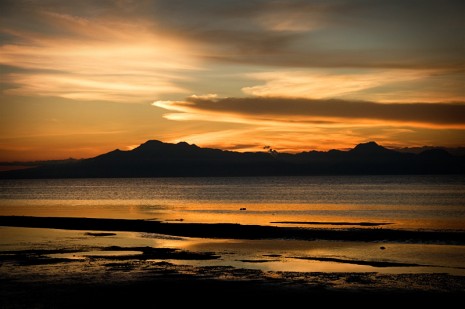 The next day we did a couple of really nice dives. There are some great walls, a few small caves and lots of coral. I left my camera housing back at our apartment, partly because I didn't want to carry it, and party, to give Mike a break from my incessant picture taking, I figured I could go one weekend without it. As a result I don't have any pictures, so you'll just have to take my word for it, that it was really nice.
Between dives, while the tide was out I set out for a little beach-combing. Small starfish slid along in the pools left behind by the tides, and bands of little blue soldier crabs scurried around, burying themselves in the sand when I got too close.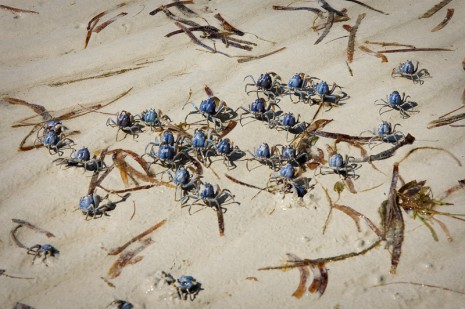 We met a cool Swiss couple, Chris and Betti. Finally some people our own age. We went diving with them and drank copious amounts of cheap Filipino rum*. Mike and Chris even got to geek out over some programming talk.
On Monday we rented a motorbike and explored the island a bit. For such a small island there is actually quite a bit to do. We probably could have stayed a couple more days and not run out of things to see.
On the eastern side of the island is Salagdoong Beach. A picturesque little beach made up of a couple of white sand coves and a rocky outcrop. There are a couple of picnic shelters, and a pagoda where you can look out over the water. After a quick look around we decided to come back for an afternoon swim after checking out some more of the island.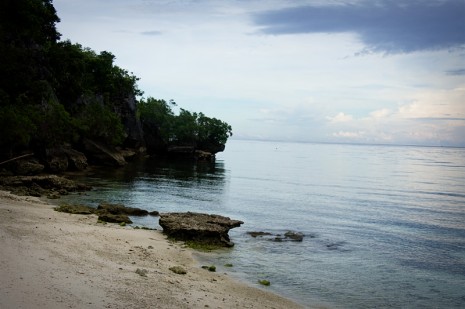 We continued on to the town of Lazi at the southern end of the island and then up a few kilometers to Cambugahay Falls. A short hike down brings you to the base of the falls, which is actually a series of three short falls that plunge into pools big enough for swimming. Usually these pools are a clear enough to see the bottom, but there was a really big storm the night before causing the water to turn mocha brown.
Never the less we took the plunge and went for a swim anyway. We brought my dry bag so we could keep our stuff with us while we went swimming. We had been warned about the organized child crime that goes on at the falls. Young kids, whom the locals refer to as "little monkeys", hide in the trees and wait for you to leave your belongings laying by the edge of the pools. Then they jump out, steal your stuff, and run off into the trees quicker than you can catch them. Sure enough, as we stepped into the water we noticed a of kid hiding behind a tree watching us.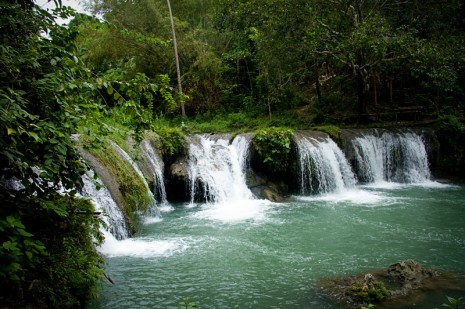 After a refreshing swim in the falls we headed back to Salagdoong beach for a swim in the ocean, before heading back to the resort. We spent another relaxing evening drinking rum with Chris and Beti, and the next morning did one last dive before heading back to Dumaguete.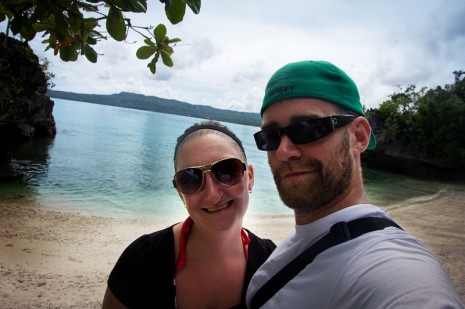 Cheap Filipino Rum – Tanduay Superior Dark Rhum. A 26er goes for 129 Pesos which is about $3.22. The bottle claims that it's 80 proof, but after a few nights of drinking the stuff we're a bit skeptical. It is however much better than the even cheaper, regular Tanduay Rum, which goes for about 85 Pesos ($2.12).