It's starting to feel like we actually live here now, and not just like an extended vacation. We're starting to get into a bit of a routine and things are feeling really comfortable. It's also been almost a month since we've done anything really 'touristy'.  So when Cita, the woman who owns our house, asked if we wanted to join her and some friends on a day trip to Bias, to go dolphin watching we jumped at the chance.
Dolphin watching in Bias has been on our list since we got to Dumaguete, but we hadn't managed to make it up there yet.  We hadn't figured out the best way to get to Bias and arrange the boat trip, and we also weren't sure when was the best time to actually see dolphins. The 'tourist trail' in the Philippines is significantly under-developed compared to a lot of countries we've travelled to. It can be hard to find specific information on arranging travel and sorting out details, so when Cita invited us along, we were quite happy to let her do the organizing.
We set out around 9am. Seven of us packed into a small SUV. Mike and I being the youngest and nimblest of the group, (although also the tallest) were squished into the back, on the tiny folding bench seats, which I'm sure are definitely made for midgets. Luckily we didn't have to ride like this the entire way to Bias, only into Dumaguete, where we met up with a friend of Cita's and then Mike and I were able to jump in with him.  We were joined by one more car load of people before setting out for the hour and a half journey.  
We arrived shortly after lunch and stood around in the hot sun for about half an hour while Cita and a couple other filipino's arranged the boat. Then we climbed back in the cars and followed two men on motorbikes down a bumpy dirt road to meet the boat. When we got to the dock there was no boat and were were told it would be about half an hour.  So we decided to have lunch. Cita and her friend had made up a couple of pots of rice and some delicious chicken adobo, a traditional filipino dish made with soya sauce, vinegar and calamasi juice (little mini limes).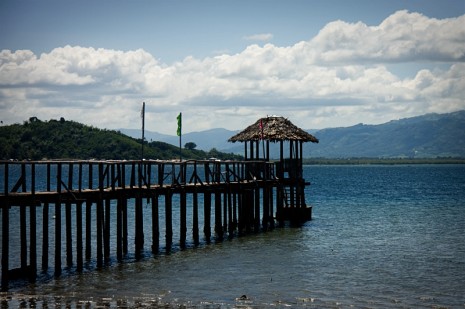 Just as we were finishing lunch the boat arrived and the 12 of us climbed aboard.  It was then that we were informed that it was too late in the day and the sea was to rough to see dolphins so instead we would just be taken to a near by sand bar where we could swim and hangout for the afternoon.  Needless to say Mike and I were a bit bummed, the whole reason we'd come was to see dolphins, but what could we do, we were just along for the ride.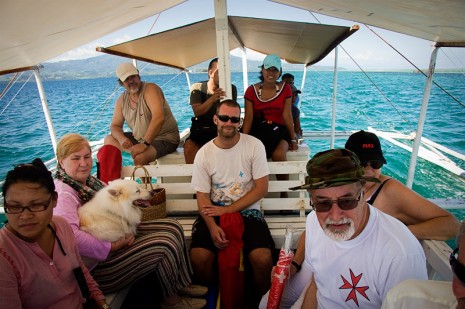 The sandbar ended up being quite beautiful. About 1km off shore, in the middle of the sea is a 7km-long sandbar. There are four little huts on stilts that can be rented out for the day, or even overnight.  We hung out at one of the huts for a few hours while we snorkeled and swam, ate some more and relaxed in the sun. Around 5 o'clock we all piled back on to the boat and started the journey home.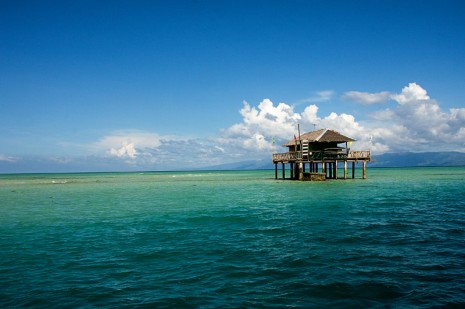 All-in-all it was a really nice day, even if it wasn't what we expected when we set out that morning. However on the way back Mike and I paid closer attention, and kept our eyes out for signs and tour operators, anything that would make doing this trip on our own a little easier.  When we got back home we did a bit more research and found out that the best chance to see dolphins and even whales is from March to October. So I think we'll wait till the spring to try this trip again.
On friday we and had lunch at El Dorado, and went for a couple of dives. The first dive was at Masaplod Sanctuary South, where we saw a couple of pretty large cuttle fish, a trumpet fish and bunch of nudibranches.  Unfortunately I accidentally had my camera set to manual focus which doesn't work when the camera is in the underwater housing, so I didn't really get any good pictures. Have I mentioned there is a bit of a learning curve to this whole underwater photography thing? Before heading out for the second dive at the Dauin Sanctuary, I was able to set my camera back to auto focus. This is one of the few buttons that isn't accessible when the camera is in the housing, so I had to wait till we were on dry land and I could take my camera out to switch the button. 
On the second dive we saw a couple of large groupers, a few hermit crabs an loads of garden eels. I however don't have pictures of any of these either, since they just didn't want to sit still and say cheese for me. Instead I have more pictures of anemone fish and another anemone shrimp. All of which are much more co-operative when it comes to saying cheese.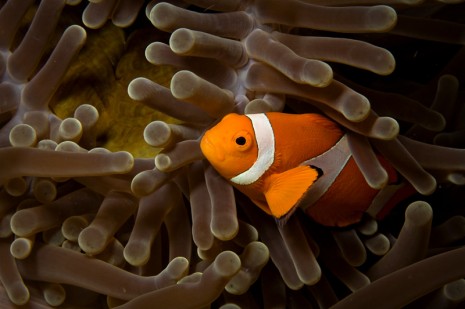 Clown Anemone Fish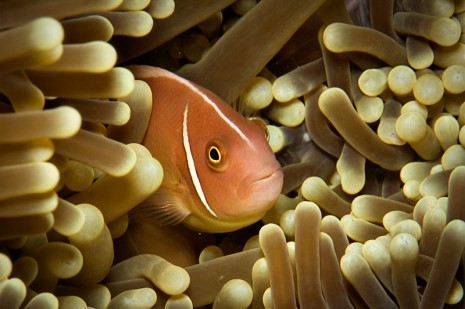 Pink Anemone Fish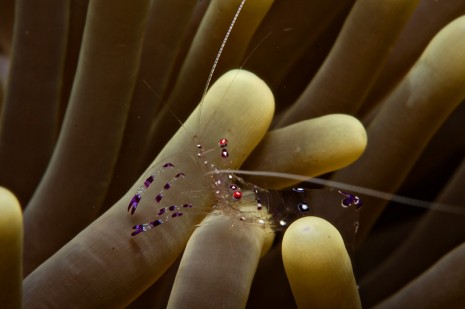 Anenome Fish
Other than that we both did a bit more work this week, and I finally managed to get my portfolio site up. It's been a long time coming, but now that it's up I can start the search for a bit more freelance work. 
In other work related news, the annual Lotus Awards in Vancouver were held last week and one of the site's I designed, www.thebigwild.org, won Best Website B2C. Congrats to everyone back at Tribal DDB who also worked on this, as well as the other projects that won awards that night.  
I think that about wraps up the week!  Hope everyone is doing well! Miss you all!
Love, Kelly & Mike