I can't believe it's 2009 already, and that in a week I'm going to be 30! We rang in the new year on a beach, with a couple bottles of champagne and some of the friends we've made over the last 4 months here in the Philippines.
2008 has been a year of change. It was back in January that we started planning this crazy adventure and pretty much everything we've done over this past year has been in anticipation of this. In March Mike quit his job and went freelance full time. I spent most of April getting my loft ready to sell, and finally listed it in May. We made trips to Vancouver Island, Kelowna, and Edmonton, to make sure we saw all our family before we left. I gave notice at work in June, but stayed on till just before we left. August is a bit of a blur, what with packing, planing, organizing, and an endless amount of good-bye drinks, it all went by so fast.
Selling everything we owned and downsizing our lives was a lot more work than I think either of us had anticipated. But in the end it was a very freeing experience. On September 1st we boarded a plane with everything we owned crammed into 3 bags. It was as if a weight had been lifted off our shoulders. We could stop planning, and organizing, and dreaming, and finally start living it.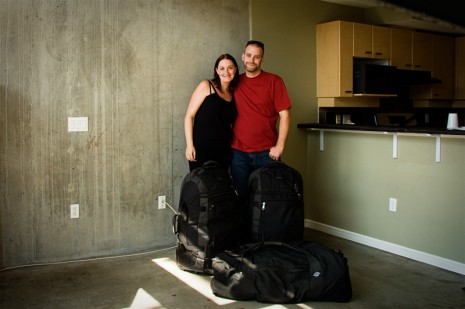 We've now been living it for four months, and have made a lot of great memories so far. Some highlights include seeing a Tarsier, Mike learning to dive, exploring the island of Siquijor, learning to use my camera underwater, sundowners on beautiful White Beach, and of course just enjoying our great beach house.
So what's to come for 2009? Well… we're not really sure. While we're liking the Philippines, we both agree it could be better. We'll likely move on to Thailand in the next couple of months, and then perhaps Malaysia and Indonesia, while we continue to the search for our little piece of paradise. So far it's been a great experience, and we're excited to see where this adventure will take us. So, stay tuned. Whatever 2009 might bring we look forward to sharing it with you!
Happy New Year!
xoxo, Kelly & Mike