The other day a reader of our blog emailed me asking for a hotel recommendation in Dauin. A lot of the guide books are pretty lacking on this area and usually only have one or two listed. I realized this was something we haven't really talked much about since we arrived here, and figure it was about time we made a post about it. Keep in mind we haven't been to all of these, but I'll give you a bit of info about the ones we have been to, and then list the others in the area and you can check them out for yourself.
El Dorado Beach Resort
$44 – $145 CAD
This is where we stayed when we first arrived in Dauin. Clean and comfortable rooms, that have a sort of 'Flintstone-esque" feel to them. Rooms range from standard (a little on the small side) at around $44CAD to premium sea view with jacuzzi at $145CAD and lots in between, there is even a tree house for people who want a more unique experience.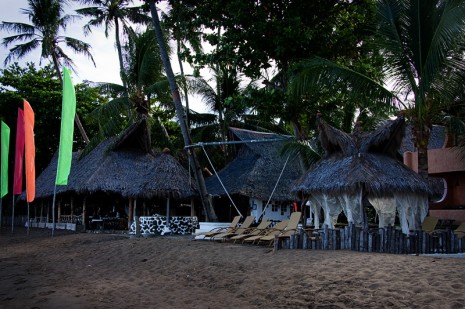 The grounds are nicely manicured and set around a nice pool with a little rock waterfall. There are two restaurants, one next to the pool, which is almost always empty and one on the beach. The food is a little better than average for the Philippines (If you've been reading our blog at all you'll know we're not that impressed with the food in this country). They have a large menu, ranging from local filipino dishes to western fare like pizzas, pastas and a few Swiss favorites like schnitzel. Breakfast is included in the room price, and you can also add on optional full board for your stay.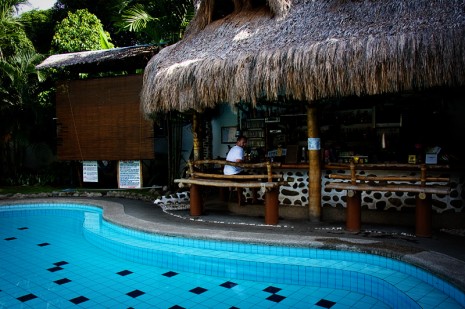 The pool bar is a great place to hang out for a beer or two after diving, or really pretty much any time. Mike's only complaints are that it's not swim up, and they only sell the cheap rum. They also have a large projector screen next to the pool that they play movies on. They have a large selection of pirated DVDs and you just have to ask the staff and they're more than happy to put it on when ever you want. Then just sit back and relax with a beer in the pool while you watch.
Wifi internet is available throughout the resort, for a small fee (or you can use the computer at reception). Power is supplied by generator, so risk of outages is pretty minimal, however when the power switches to generator (every night around 7ish) the staff often forget to reboot the routers, which can cause a bit of an issue with the wifi. For the average person on vacation this isn't really an issue, but for us relying on internet for work, it happened a bit more often then we would have liked.
Swiss owned and operated, and as a result most guests tend to be either Swiss or German, but most of the staff are friendly enough, and all speak decent English. There are the occasional English speaking guests, but they are definitely few and far between. The owner of El Dorado Resort also owns the popular "Why Not" bar in Dumaguete, and a daily shuttle operates free of charge between the two, about three times a day.
Dive Society is the on-site dive shop, run by a really good group. Also Swiss owned and all of the instructors are Swiss, but we found them to be a lot more welcoming of English speakers than the owner of the resort. Their equipment is all in really good shape as are their dive boats (3). If you're not a diver you can arrange snorkeling trips as well.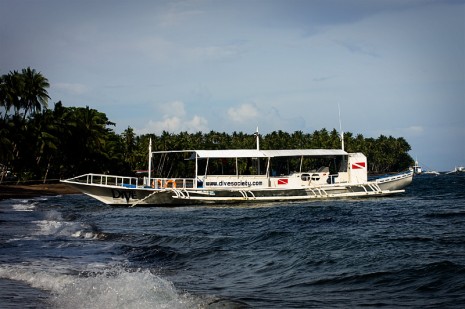 Pura Vida Beach & Dive Resort
$78 – $111 CAD
Located a short walk down the beach from El Dorado is Pura Vida Beach & Dive Resort. There are two room options, standard bamboo bungalows set around a garden areas towards the back of the resort at $78CAD or deluxe sea or pool view rooms at $111CAD. The rooms themselves are a bit more spacious, as are the grounds of the resort.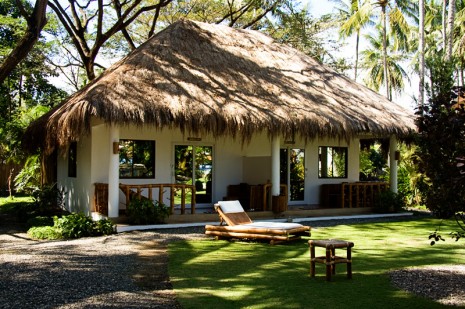 The pool/beach bar is where most of the guests congregate, however there is also a sea view restaurant above the dive shop. The menu here is almost identical to El Dorado, a bit smaller and not quite as good over all, but some dishes do stand out above El Dorado.
Also Swiss owned and operated, with plenty of friendly filipino staff who speak english, however once again mostly Swiss/German clientele.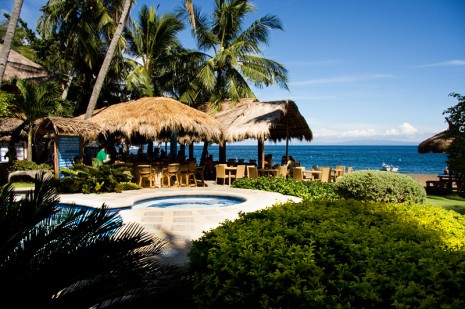 Sea Explorers is the on-site dive shop. Although we haven't dove with this particular shop, Sea Explorers has six dive centers in the Philippines, I had a bit of an off putting experience with the arrogant manager of the Alona Beach shop. That being said, most of the customers diving with Sea Explorers Pura Vida seem happy with the service. Sea Explorers also offers island hopping between their dive centers although this depends on demand.
Atlantis Dive Resort
$249 CAD
At the north end of the same beach lies Atlantis Dive Resort. A bit pricier than the previous two resorts at $249 CAD a night (includes full board), Atlantis caters almost exclusively to divers.
The restaurant here, Toko, is probably the best in the area. The menu changes daily and usually consists of four main dishes (fish, chicken, veg and meat – either beef or pork) as well as your choice of appetizer and dessert. They also have an à la cart menu if you can't find something to your liking, but prices are significantly higher than the neighboring resorts.
This resort, is sort of the 'little sister' to the bigger, and popular Atlantis in Puerto Galera, and as a result attracts a lot of divers who have also been there. The clientele here is also more diverse as oppose to the predominantly Swiss/German nature of the above two.
Bahura Resort & Spa
$251 – $375 CAD
Heading further south, you'll come across Bahura Resort & Spa. Starting at $250 CAD this resort seems a bit over priced, although we haven't seen the inside of the rooms, so maybe we'd be surprised. The resort has a very open feel to it. Spread out across a very large lot, at times it feels a bit sparse and barren.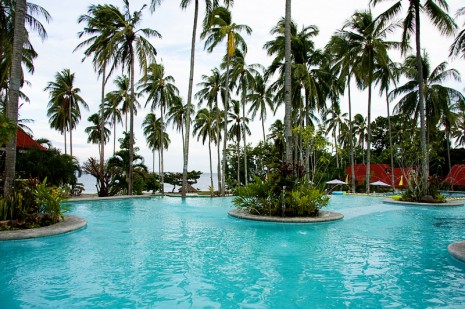 The crowning jewel for this resort is definitely their pool. They have a huge infinity pool that cascades from one level to the next, and with plenty of space you wont be crowded by other swimmers. If you're not staying at the resort they do have a 'Dine and Swim' special where for about $14CAD you can come for dinner and swim in their beautiful pool. We haven't eaten here, so I can't comment on the food, but they do make a mean pina colada.
This resort seems to be popular with Korean and Japanese guests, and is owned by the Manila based Scuba World. That being said, surprisingly their dive center seems to be one of the least developed in the area. However if you need to pick up some gear while you're here they do have a small shop on site, but with limited selection
Thalatta Beach Resort
$69 – 76 CAD
Further south still is French owned Thalatta Beach Resort. A small 12 room resort set around a garden pool with a perfect view of Apo Island. We just recently checked out this resort for my birthday last week, and while the weather didn't co-operate, we did enjoy our stay.
All twelve rooms are pretty much the same ($69CAD) however there are a couple that are a bit closer to the beach that they call "Beach Front" for an extra $7, although realistically you can see the beach from pretty much every room.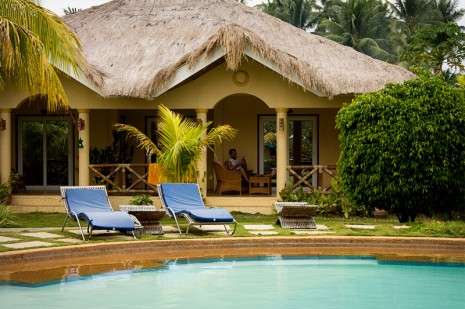 Thalatta has the most well stocked bar we've come across since being in the Philippines, and due to the unfortunate weather we definitely took advantage of it. They have an excellent wine list of French, Australian, Californian and even Argentinean wine. They also had a large selection of Scotch, and a few different Rums that Mike had yet to try.
After seeing the bar list and discovering the French owner, we had high hopes for the restaurant, but like most places we were disappointed and the food was pretty average.
The dive center is run by Easy Diving, which also has an operation in Sipalay. Due to the weather we only did one dive, but equipment was in top condition and all looked very new.
Puerto Cita's Beach Resort
$25 – 58 CAD
This is where we are living right now. Not really a 'resort' in the same sense as the above mentioned resorts, as there is no restaurant, bar, dive center or pool, it's pretty much just a couple of very basic nipa huts (traditional bungalows), as well as two beach front houses (available for monthly rent only – where we're living).
Owned by a lovely filipina and her Swis husband, this resort has a very "family" atmostphere. Click here to read about how we spent Christmas Day with Cita and her family.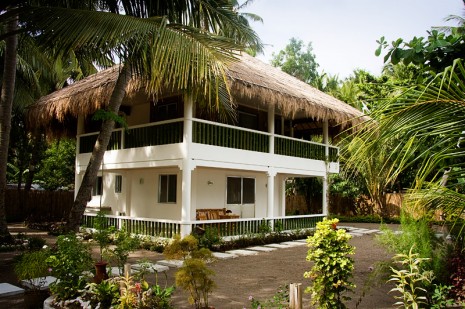 If you're looking for a monthly option, I would highly recommend Puerto Cita's. The beach houses are a little on the pricey side for local standards, but you really can't beat the location and the houses themselves are really comfortable.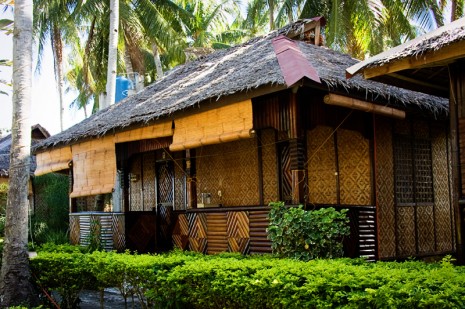 If you're just looking for a couple nights stay, or a week vacation, I'd probably suggest elsewhere, unless you're on a really tight budget. Even then there are a couple of cheaper options below, which at least have a restaurant, as there's not much in the way of food outside of the few resorts in the area.
Other Options:
The above resorts are the only ones that we have first hand experience with, but there are a few other options in the area. Check tripadvisor or google and I'm sure you can come up with a few reviews of these other resorts.
(From North to South)
*Prices as of January 2009.
While you're in the area don't forget to check out all of the great diving. Click here to read about the dive sites in the area.