We've mentioned before that we've been getting a lot of bad weather lately. It's been raining off and on all week, but this weekend we definitely saw the worst of it. Saturday morning Raina and I decided to go into town for a massage. It had been raining all morning, but like I said, lately that's been kind of the norm.
We took the El Dorado shuttle into Dumaguete, and headed for Nuat Thai. Mike and I had been there before, and although not the best massages we've ever had, better than a couple other places we've been since arriving in the Philippines. Unfortunately Raina ended up getting the short straw and had a less than enjoyable massage. In fact I think she described it as "borderline abusive". Anyway, when we walked out an hour later, the rain was coming down harder than I've ever seen and puddles were starting to form in the streets. We considered taking a trike back instead of waiting for two hours for the shuttle, but reconsidered when we realized how wet we'd get. We had lunch at Why Not Bar, and watched, as the rain continued to fall and the water continued to rise.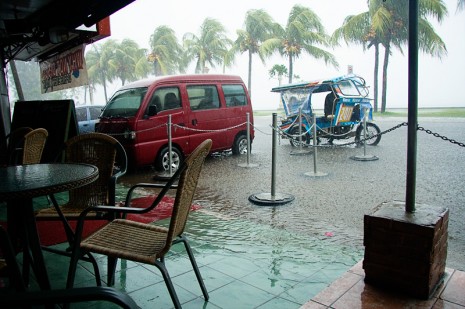 At four o'clock after picking up a few things from the deli (wine, cheese, chocolate – just the essentials) we hopped into the shuttle. The traffic was bumper to bumper as we inched our way back to Dauin… and then it just stopped. We sat for about half an hour, without really moving, before the driver decided to turn around and try a different route.
We headed up into the hills towards Valencia, hoping to bypass whatever was blocking traffic on the main road. As we drove it became more and more obvious that this rain was definitely not normal. Roads turned into rivers and knee deep water was everywhere. Despite all this, everyone in the streets, still managed to have a smile on their face.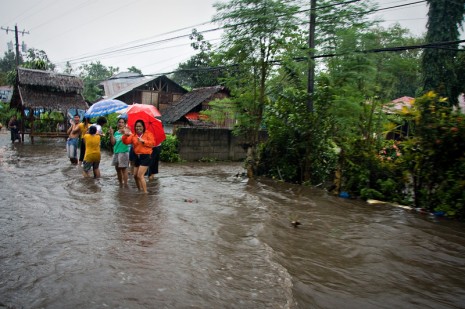 When we got to Valencia we were told there was too much water to pass through that way and once again we turned around. It was about this time we realized we weren't getting back anytime soon, and decided we might as well make the most of the situation. So we opened a bottle of wine (thank goodness for screw-tops) ate some chocolate.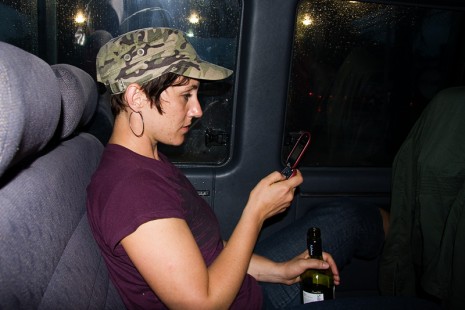 We tried one more time and were once again met with a river of water and mud, where there should have been a road. We turned around again, and our driver phoned the El Dorado, hoping that they'd have a little more information. He passed me the phone so I could speak to the girls at the front desk (his english isn't very good). They informed us that apparently all the flooding had caused part of the road in Bacong (about half way back to the resort) to wash out, and that no traffic was getting through at the moment. She said the driver would take us back to Why Not, to wait and hopefully we could try again later.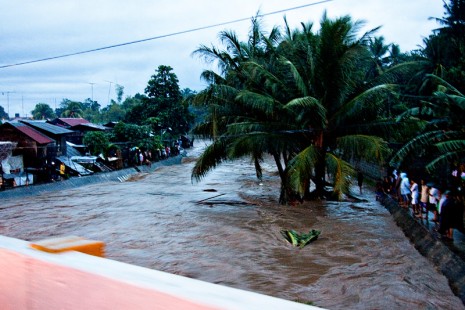 So there we were, two hours later, back where we started, and down one bottle of wine. We ordered a beer, and waited an hour, before trying it all over again. We had no idea if the situation had changed, but none of us were to keen on the idea of staying in town for the night. Water was still kneed deep, and traffic was still bumper to bumper, but at least this time we were moving. Slowly… but we were moving.
The power was out most of the way back, and the streets were lined with people watching all of the chaos. Buses and jeepneys were packed full of people, everyone just trying to get home. By the time we reached the sight of the washout it was just past eight. It was too dark to see the full extent of the damage, but it was obviously bad. From what we could see half of the road had been washed down the bank and there was mud and water everywhere. Raina and I were even more thankful we hadn't taken a trike home.
We arrived back at El Dorado around nine o'clock. What normally takes half an hour, had turned into a five hour trip… and I still had to walk home. The rain had finally stopped but the power was still out. Halfway home I came across the biggest puddle I've ever seen. The whole road was covered in a foot of water, and there was no way around. I rolled up my jeans and was very glad to be wearing flip flops.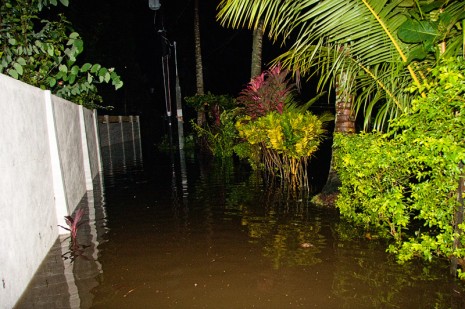 The water stretched all the way up to our gate and into the yard, but up towards the beach our place sat completely unaffected. I arrived home, soaking wet and a little bit drunk… and found Mike sitting with his laptop and a bottle of beer, like it was just another ordinary day. (Apparently the power came on a few minutes before I got home).
According to the news, this was the worst flooding in 50 years. 5 people were killed and more than 400 houses were damaged and washed out.
http://newsinfo.inquirer.net/breakingnews/regions/view/20090208-188115/5-dead-in-Negros-floods-landslides