One of the harder parts about this crazy lifestyle of ours is that we are constantly picking up and moving somewhere new. We're not exactly traveling light, which can make planes, buses, ferries, taxis, jeepnies and tuk tuks, a little difficult. And I'm often envious of those people with the tiny little backpacks.
This time before heading back to Koh Samui, we decided to do a bit of downsizing in order to lighten our load. We both got rid of quite a bit of stuff, but unfortunately it didn't seem to make a dent in our belongings. So far we've been pretty good about shopping, and haven't really purchased any souvenirs, but between the dive gear, camera gear, and computer gear, our bags are definitely heavier than we'd like.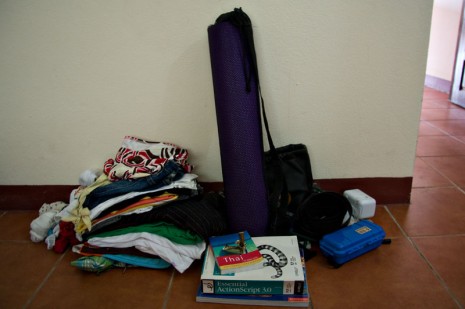 What we did manage to get rid of helped a bit though, and the ferry from Koh Tao to Koh Samui wasn't too bad. We arrived at our hotel on Tuesday, just in time for Mike to come down with some sort of traveler's bug for the third time this trip. Mike spent the next few days in bed, and I ended up eating every meal by myself. Needless to say there's not a whole lot to report on this week.
We're still not entirely sure what our plans are next, but we're pretty sure we're heading to Bali, we just haven't decided when yet. We have one month left on our Thai Visas, but unless we find a spot that we really love, we probably wont stay the entire month.
If anyone's got any suggestions on where to stay and what to do in Bali we'd love to hear it, and while I'm on the topic of suggestions, if anyone has any connections in Vancouver for hotels or short term apartment rentals that would be awesome too. It's still three and a half months away, but this will probably be the most expensive part of our trip so we're looking to cut costs however we can.