I'm a spoiled scuba diver. I started diving last October in the Philippines when I realized that my motorcycle habit wasn't going to be fulfilled and was instantly fascinated with the underwater world. Over the last year, I've done around 80+ dives (not too shabby for a recreational diver!). While I've enjoyed almost every dive, the first 40 or so tend to be the most memorable since they took place in the Philippines.
The Philippines pretty much had it all as far as I was concerned. Great macro and muck diving in the Dauin area. Fantastic wall dives at Siquijor. Beautiful soft corals and schools of fish at Apo Island. Turtles at Moalboal and sharks at Malapascua. It's a package that was hard to beat. Traveling through Thailand, Indonesia, and Malaysia, I never came across a place with the diversity that the Visayas offered. Sure, there were some amazing hi-lights along the way like the whale shark in Thailand and manta rays in Indonesia, but never matching the sheer range of corals, creatures, and dive opportunities. Until Sipadan…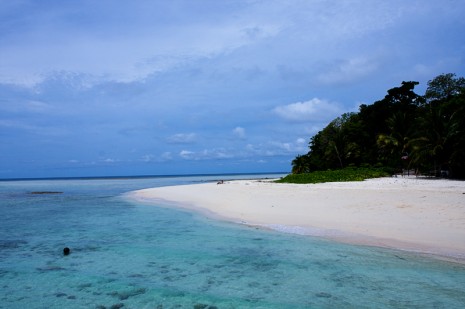 Early Tuesday morning we left the Perhentians, taking a spine crushing speed boat ride to the mainland while we hugged our laptop bags away from the spray and rain. 10 hours of taxi rides and planes later we arrived in Tawau, Borneo. Another hour later, we were in Semporna hunting for a late dinner.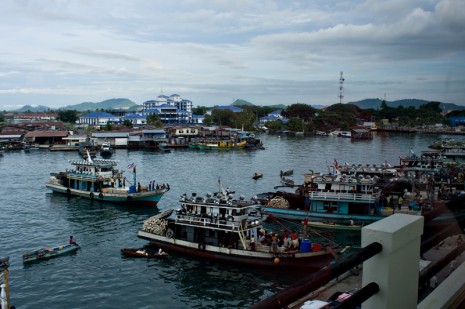 The next day we woke at 7am to catch the boat to the island of Mabul. Upon arriving at the Billabong Scuba homestay, we found out they had overbooked and moved us to the longhouse next door. We soon found ourselves in a rundown 2m x 3m room with only a couple grungy single beds in it, shared bathrooms, and set meals. The thing is, there's no middle tier options on Mabul. It's either $30/night per person at a homestay/longhouse, or $3-400/night at one of the few resorts. So we were expecting things to be a little rustic and rundown, but even then it was a bit of a shock. We don't do a lot of budget hosteling.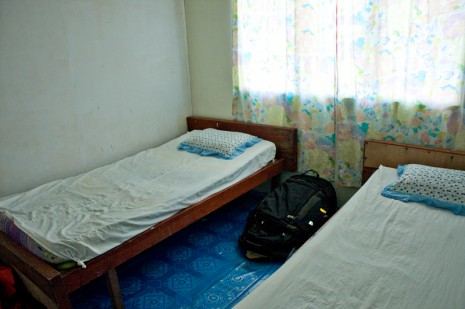 Billabong was the only place that had been able to guarantee us 2 full days at Sipadan, and we booked a month and a half before we arrived. Most places had no availability at all, and many people we met said they had booked their 2 and 3 day Sipadan trips 4-6 months in advance! Sipadan has a very strict permit system allowing only 120 divers a day on the site.
We did a number of dives at Mabul over the next 5 days. Initially, we weren't overly impressed with the south side of the island. It's touted as a macro paradise, but we saw surprisingly little and the visibility was quite poor. We did eventually end up seeing a ghost pipefish, some interesting nudibranch, crocodile fish, and quite a few crinoid shrimp and anenome shrimp at a site called Coral Garden.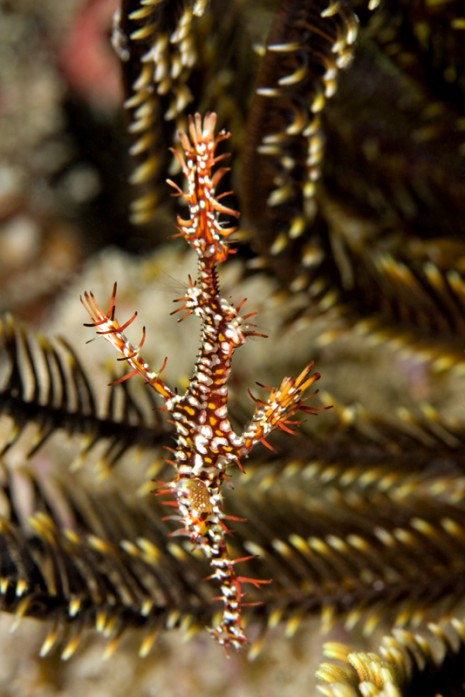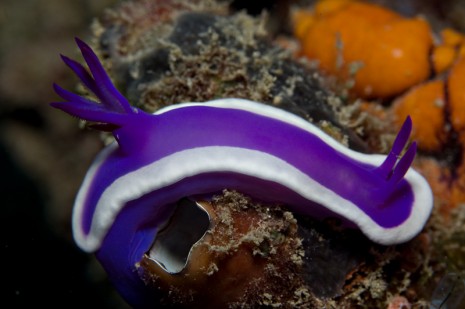 There's also a very large man made reef on the south side with large schools of fish. On the north side of the island, there's a 25m wall with a few great sites on it. Lobster wall (alas, no lobsters were found) and Ross reef, as well as Eel Garden were great dives. We saw a number of turtles and stingrays, some shrimp, moray eels, plus 20 or 30 nudibranch. I also found 2 huge cuttlefish at Eel Garden, and a big Flying Gurnard which was a first for me.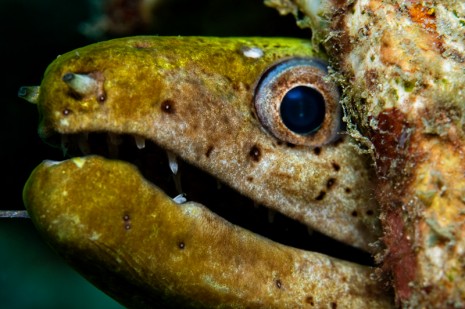 There's also a site called Seaventures. It's an old oil rig that was gutted and ended up being turned into a dive resort. While interesting and there's lots of sea life under it, it's also a bit depressing. The site is basically a big pile of trash dumped off the rig. From toilets and iron bars to filing cabinets, they just threw everything overboard and 10 years later it's now a faux reef. While it's full of life now, I can't imagine what else was originally swept away into the ocean and I don't want to promote dumping trash into the ocean because 10 years later fish can hide in it… but we did see a frog fish.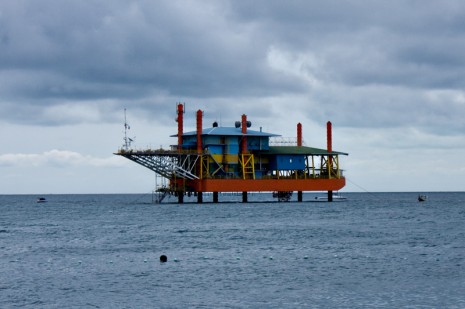 Our first day at Sipadan, we took a speedboat to the island around 9am. Signing in with the permit people, they gave us a flag to identify our boat. We geared up and headed off to South Point, which is known for shark sightings. :) Jumping in, we first noticed the amazing reef. Beautiful hard corals as far as you can see, huge fans, and thousands of tiny fish everywhere. Dropping over the edge of the wall, we saw our first shark within a minute. A meter long white tip reef shark, cruising around 12m.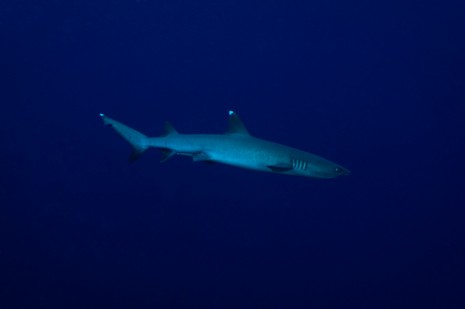 We dropped down to about 25m. With visibility stretching out to 50+ meters, we quickly saw small groups of white tip and black tip reef sharks patrolling. Then, looking down below to 40 or 50m, we found big grey reef sharks around 3-4m long. Spinning in circles trying to see all the sharks passing within meters of us, interspersed between them were turtles headed to the surface for air, or camped out on the rock shelves. For 50 minutes we just drifted along in the current, flabbergasted at the sheer number of sharks and turtles. Coming back above the wall, we were again in a vast field of coral full of every kind of fish imaginable. Easily the best dive I've ever done.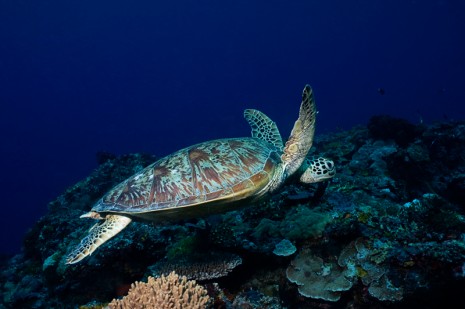 The following 5 dives at Sipadan followed a similar script. Beautiful coral entries, deep walls, surrounded by sharks and turtles, only to return to the huge coral beds for our safety stop. Easily, we saw 75 sharks and 100 turtles over those 6 dives. Plus, it's trigger fish nesting season. At Hanging Gardens we came across hundreds of trigger fish ascending the wall and when we came up for our safety stop, we found them nesting in pockets of coral as far as you could see. Unbelievable. Even better, almost every creature we came across is so unaccustomed to human contact that they hadn't developed fear or aggression towards us, so Kelly got some fantastic pictures.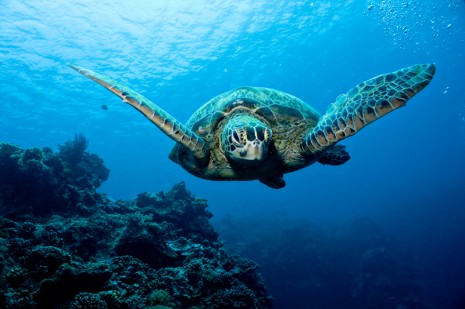 The 5 sites we dove were:
South Point – Shark Central. Black tips, white tips, grey reef sharks. Lots of turtles. Trigger fish everywhere. Slow drift.
Barracuda Point (twice) – We saw a barracuda tornado, big trevallies and schools of jackfish. Lots of turtles. Fast drift.
Hanging Gardens – More white tip sharks, turtles, and nesting trigger fish.
Mid Reef – White tip/black tip sharks and turtles.
The Drop Off (Turtle Tomb) – Too many turtles to count. A school of bump head parrotfish at 8m, schools of batfish, white tip sharks. Briefly explored the turtle tomb where many turtles (and some divers) get lost and have perished in the twisty caves and tunnels.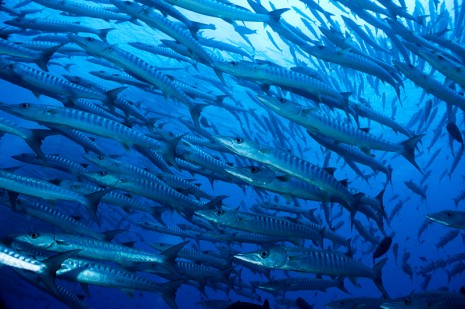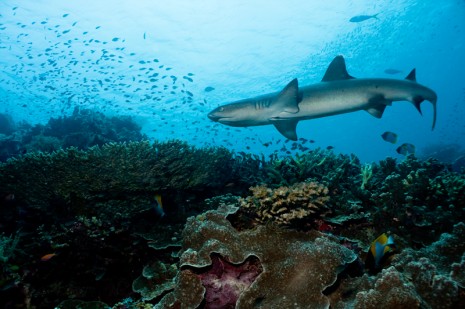 All in all it was an amazing experience. Easily the best 6 dives I've ever done and more than making up for the cramped quarters, food, and long travels. Plus the other travelers we met were so genuinely excited to be diving one of the worlds premier sites it was impossible to be put off. We'll be retelling and reliving tales of the shark that passed within inches of my face or the turtle that chased us into the tomb for what I hope will be a long time.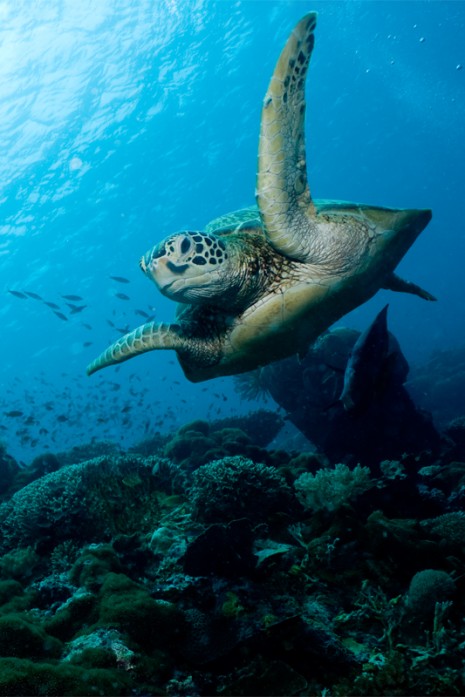 (More pictures to come, Kelly just hasn't gotten around to editing them all!)