Back in 2007 I picked up an issue of Bike magazine with an idyllic inside cover shot of a motorcycle traveling up a pristine, empty road through lush jungle valleys shrouded in mist. "Like a trackday paradise" read the title, and I was pretty much sold. Reading the actual article did little to dissuade me. Government funded and maintained highways, little to no traffic, and you get to stay in a beautifully architected house overlooking a valley of rainforest below? This was undoubtedly motorcycle paradise. The article was ear marked, often re-read, and each time I swore that if I had a chance to visit Borneo, I'd be tearing through the S-curves on an Aprilia Pegaso, wind in my face, tires to tarmac. Who knew at the time that Borneo also housed a little diving gem called Sipadan? When planning our trip through southeast Asia, my sales pitch to Kelly lasted all of 30 seconds before we were arranging itineraries in Sabah.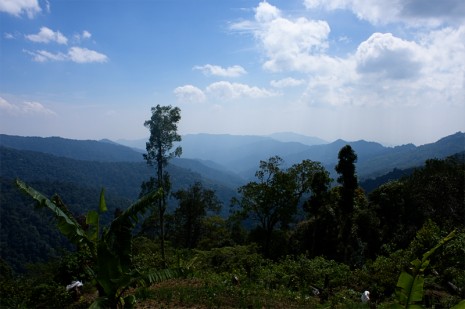 Bryan and Terry, along with Terry's wife Rose (and 3 year old David) operate Borneo Biking Adventures (BBA). For the last 4 years they've taken racers, recreational riders, slowpokes, and even a few lunatics on treks through the roads and trails of Malaysian Borneo. Midday Tuesday, Terry arrived to pick us up from our hotel in Kota Kinabalu. 30 minutes spent navigating a bit of city traffic, and a perilously steep 5km gravel driveway and we arrived at Sinurambi, their house in the hills. With 6 guest rooms, an infinity pool, beautiful furniture and finishings, and staff creating a range of tasty meals, Sinurambi was a pleasure to come home to at the end of each riding day.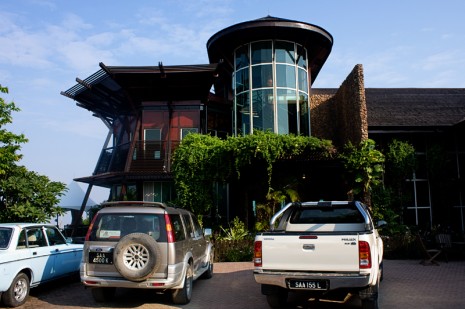 Rose and company are superb hosts, quickly making you feel at home and taking care of anything you might require while including you in the family atmosphere. Our first evening was spent relaxing in the pool with a cold beer, following which we were invited down to the river for another swim and a game of Frisbee with some of their friends. It was a refreshing change from the typically stoic "sir" and "ma'am" approach. Returning to the house, we chatted with Terry and Bryan about the next days events over a dinner of local freshwater crab and wild boar. Terry asked, "Tarmac, off road? What kind of rider are you?" "I came all the way here for twisties," was my response. Being a sport bike rider, gravel was almost a feared occurrence. "I think we've got you covered," he replied with a smirk.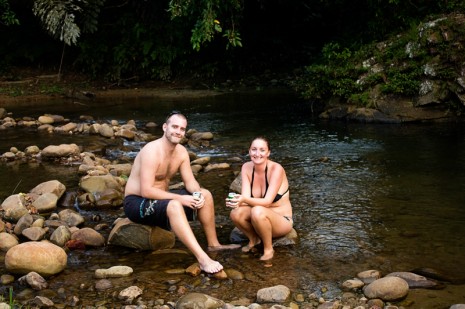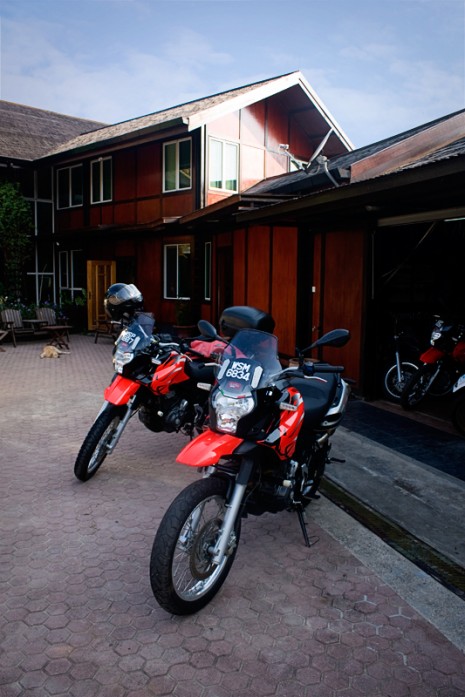 Up early the next day at 7am, we showered and went down to breakfast. Following a quick briefing, we geared up and got our first look at the bikes. BBA has a fleet of 12 Aprilia Pegaso 650's. A great mix of trail and street, the Pegasos performed brilliantly on tarmac, clay, gravel, mountainous ascents, tight corners, traffic jams, and even the occasional river crossing.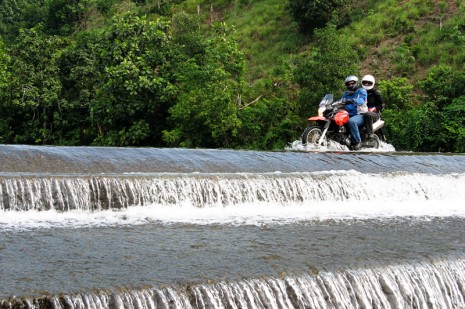 BBA also provides full riding gear for both riders and pillion passengers. A must have for us, given our beach oriented wanderings have left us with nothing but board shorts and flip flops. Next item on the itinerary, "Would you prefer to ride down the 'driveway', or drive the support vehicle?" Given my lack of off road expertise I opted for the air conditioned option. The 5km of steep, rutted gravel is quite intimidating and tossing my shiny untested new ride off a cliff, was all too prominent in my mind. Following behind Bryan in the support truck was a sobering experience as he quickly outpaced my 4 wheels with his 2. I shouldn't feel too badly, he's a British motocross champion.
Climbing onto the Pegaso at the base of the driveway with Kelly behind me, we took off down the road on our test run. Following Terry we meandered through traffic and the sloping turns heading into town. Driving on the left side of the road, merging through roundabouts, and a complete disregard for any road rules whatsoever was a bit of an adjustment, but we've grown somewhat used to it after the last year in Asiatic traffic patterns. Getting used to the weight of the bike and reacquainted with the concept of speed also took a few corners, aside from airplanes it's been months since we've been moving faster than 70 or 80 km/hr.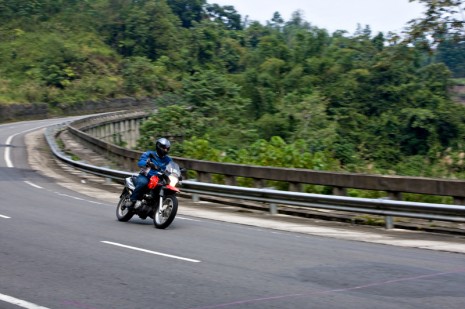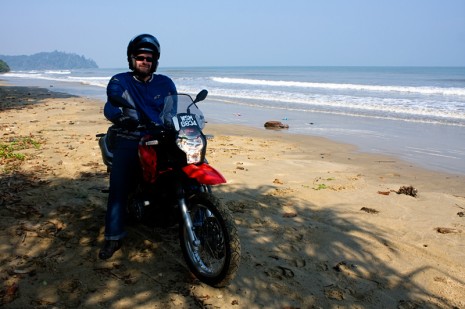 In no time we were outside town lines, cruising little used back roads which eventually led us to a drive up the beach. We stopped for the first of what would be many re-hydrating points over the next few days. Sabah is hot in the summer, around 35-38 degrees Celsius at midday; and while the wind keeps you moderately cool while riding, you're constantly sweating in all that protective gear. We pulled out of the beach and within a few turns ran into a police roadblock where I was asked for my license. The officer in charge asked me what Class 5 and Class 6 were for in Canada, where I was going, then quietly "How many cc's and how fast does your bike go?" Motorcycles are a rarity in Borneo. BBA has imported all of their bikes and renting them is illegal. Technically, we were paying for a guided tour, not a bike rental. Aside from one 150cc Yamaha cruiser I never saw another motorcycle on the road.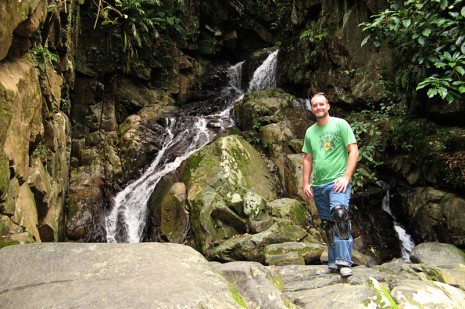 We then set off for the barren stretches of highway and huge sweeping turns comprising the newly finished Crocker Mountain Range pass. At the top with a cup of tea in hand, the view was a breathtaking vista of untouched first growth jungle, mountains, valleys, and small villages interspersed amongst the vast palm oil plantations. The trip down from the peak of the pass provided endless corners and every kind of turn imaginable. A challenging ride for someone as out of practice as myself, I overshot a tight corner apex a couple times veering dangerously into oncoming traffic… wait, oncoming traffic? Aside from the odd off-road logging truck chugging up the pass in low gear and the occasional family touring the pass in a Daihatsu doing 40km/hr there was no traffic.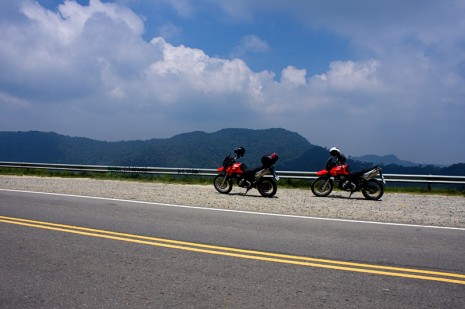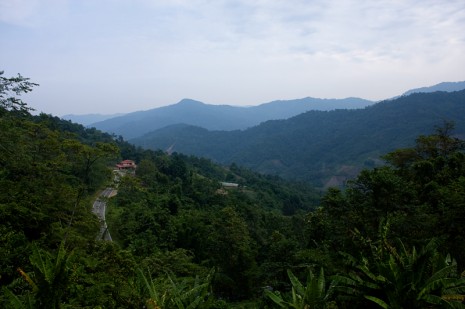 To round out our first ride, Terry took us along more highways, back roads, and unmapped routes to see where our wild boar from the previous night came from, how locals harvest the sap from rubber trees, past a few suspension bridges, and across a weir where we posed for posterity. Most of this was almost completely lost on me amongst the never ending deluge of twisty corners. The first 8 hour day alone put nearly every other ride I've done to shame. Pulling into the base of the driveway from Hell, we parked the bikes and the support vehicle picked us up for the trek to the top. We returned to Sinurambi to find a tray of drinks and a snack awaiting us before a dip in the pool and another fantastic spread for dinner. Early to bed, I fell asleep with slow motion replays of pavement blurily passing by.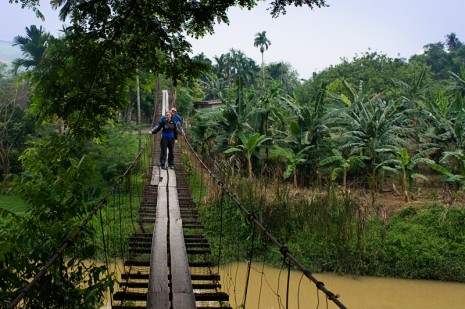 Waking early again, Kelly and I were driven down the driveway to the bikes at the base, washed clean by the rains during the night. We took off climbing the same range we had descended at the end of the previous day. Ascending giving us more control as we could easily roll off the power in the decreasing radius corners and not get caught in the opposite lane. Terry now familiar with my riding style pointed us on our way and give us a head start. Initially in 4th and 3rd gear, we were soon dropping into 2nd and 1st as the corners became faster and tighter as we climbed to higher altitude. Sure enough, Terry caught up with us in short order and set the pace a little higher. Riding with a passenger, it was tough work keeping up with him. Plus we had to stop for the obligatory photo sessions. :)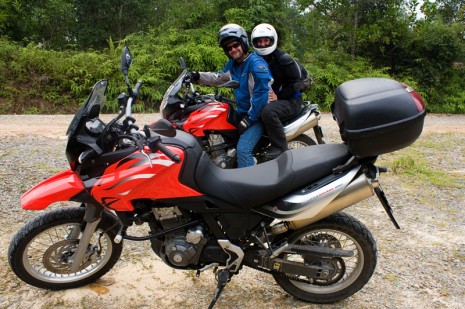 Terry took us up a gravel ridge where a landslide had previously cleared away the cliff face and road, telling us a story about coming across the road shortly after it had washed out and finding a vehicle still sitting on the road 100m below in the valley, driver and all. Lunch at a local cafe at the peak provided another stunning view with a meal of fried rice with shrimp, soup, and sweet and sour chicken. We then ran more twisty roads till we ended up at the Kundasang War Memorial where the death marches ended. We continued up to the Mount Kinabalu Golf Club where we finally got above the clouds that had been hovering for the past few days. We got our first clear view of Mount Kinabalu, as well as a tour of the first 4 holes of the golf course as we snuck down the golf cart lane on the bikes. We then spent a good hour and a half doing a perfect run from mountain top to bottom, only to be followed by zipping in and out of traffic back home. Day 2's ride had set the bar even higher. Arriving at the house, we caught up on some emails and then joined in the celebration of David's 3rd birthday.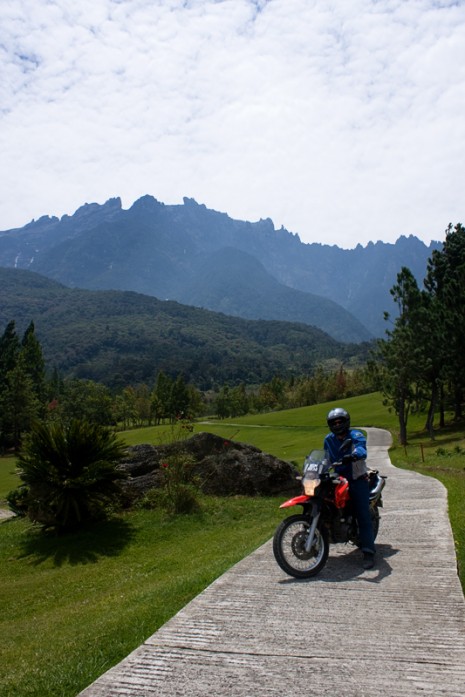 On day 3, Kelly went to see the orangutans at Rasa Ria so I had a day of riding solo where I could throw the bike into corners without worrying about her on the back. I promised I'd come back alive and in one piece. Terry on the other hand promised that he was going to take me onto the gravel. We started out doing a little standing on the pegs while navigating some easy tarmac sections, then moved up to some simple gravel bits. Within an hour, my legs were aching because I hadn't been balancing my weight properly at the start and we'd already moved up to some pretty daunting off road bits. We parked at a waterfall for a while before the actual challenging stuff to give my muscles a break and to re-hydrate, then proceeded up some steep paved bits to end up on a clay and gravel road descent where the balance point tutelage of Terry finally clicked. Buzzing down the road with the back end sliding all over the place and trying to pick the smoothest line around the jutting rocks, I found an appreciation for something other than speed and perfectly apexed corners.
We rode through highway traffic for a while then turning onto a nondescript road, Terry motioned for me to pull up alongside him. "This is where everything you've done over the past few days comes together", he said to me. He points and lets me lead the way. What follows can only be described as the most amazing twisty road I've ever encountered. More then 200 turns of every kind of camber and radius imaginable, one following the other with no straightaways in between. Dragging pegs through hairpins, throwing my weight across the bike while rolling the power on through the curve. I'll be dreaming of that road for years to come and I don't have enough expletives to properly describe it to you.
The twisty dead-end came next. Riding it semi-cautiously on the way out, just to get a feel for it. Then going balls to the wall on the way back and really pushing my own limits. Having only a vague memory of the next corner, I was definitely jealous of Terry and Bryan being able to frequent these amazing runs. Riding in Borneo gave me a sense of over-confident ability with its lack of traffic, police, speed limits, and rules, but I tried to stay wary and alert. Terry had warned me of the mid-afternoon waning when a rider's brain gets numbed by the amazing riding and the heat. There were a few too many buffalo in the streets, dogs sunning themselves on the tarmac, blind corners, slow moving cars, and little children running around to be totally carefree. But the sheer freedom of riding in Borneo is incomparable to anything I've seen elsewhere. It's really something special.
Terry had saved the best runs for the last day. "This next section is 60km of insanity," he quips before sending me off. I tear off down this unimaginably empty road where I hit 170km, then brake into huge sweeping corners at 140km, slowing into 90km inclined hairpins and I just kept trying to ramp more speed into each corner. Motorcycles really are a rarity in Borneo. Locals wave and stare everywhere you go. Whenever we'd stop for a drink or a bite to eat people would crowd around the bikes asking questions and taking pictures. Cars would pull over to make room for us to pass and flash headlights or beep horns as we'd roll by. Not in annoyance or anger as you'd expect in North America, but as if to say "Yah! Go faster!" On our speed run we came across 5 or 6 trucks with tarpulined backs that were the local school buses and the children on the benches would clap, cheer, and wave as we passed. It was almost as if we had attained near celebrity status. It made me want to go faster.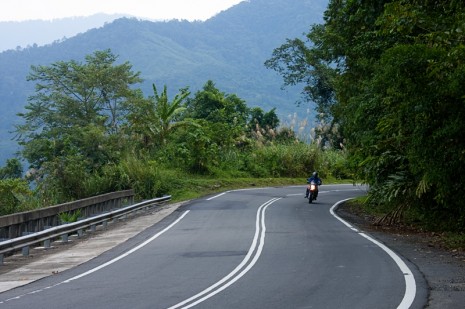 Headed towards home, we hit the traffic in Kota Kinabalu. It was almost a game. We passed everything. We split lanes. We blew by cops, raced pickup trucks, rode on the shoulder. As if everything your mother (and the DMV) ever told you not to do was now totally A-OK. Go play in traffic.
Finally we ended up at the bottom of the driveway from Hell. Terry had been building me up for this all day. He didn't even stop at the bottom, just rolled on the gas and headed up. I stood up on the pegs and followed. The next 5km had some sketchy moments where I thought I was going to lose the front end, and even a point where Terry had to pull ahead of me and flag me to slow down before we nosed into some particularly sketchy rough spots. But in the end, we made it up to the house, home, alive, bikes and bodies intact, sunburned, sweaty, and riding such an adrenaline high that even now days later I'm still in a state of grinning euphoria.
There were a couple close calls. There are more roads yet unexplored. There will be a day when I go back.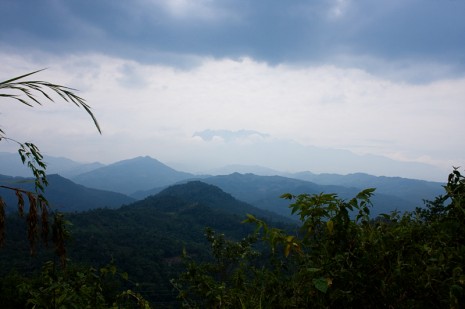 I can only hope that Sabah will still retain most of the magic that made it such a memorable finale to my year in southeast Asia. The hospitality of the people. The amazing scenery and wild expanses of jungle and mountain ranges. The wild west atmosphere of unfettered exploration and lawless self-indulgence in speed. Go, do it now. Before it's too late.