Since Mike finds monkeys creepy and had no desire to see Orang-Utans while we were in Asia, we didn't bother making the trip to Sandakan, eastern Borneo, to visit Sepilok Rehabilitation Center. Luckily, however, there is a smaller Orang-Utan sanctuary, not too far from where we were staying. I took a day out from motor-biking and went to see the Orang-Utans by myself.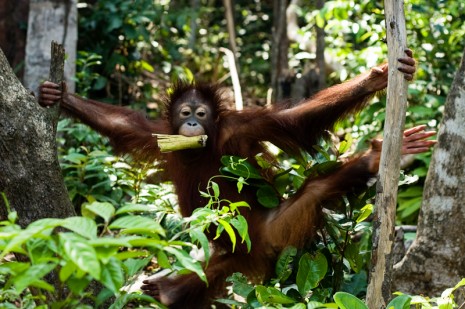 The Nature Reserve at Rasa Ria is a small Orang-Utan Rehabilitation Center set in the grounds of the Shangri-La resort, a 5-star hotel, about an hours drive from the capitol city of Kota Kinabalu. Encompassing an area of 64 acres, and caring for just a handful of Orang-Utans, The Nature Reserve works in conjunction with the much larger center at Sepilok.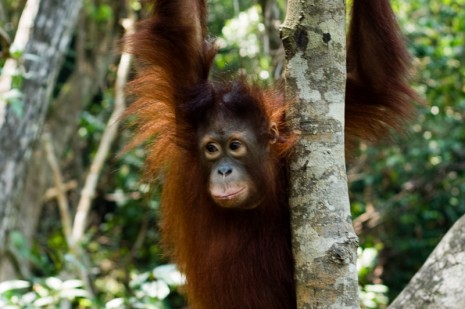 The centre was set up 1996 in collaboration with the Sabah Wildlife Department, it takes in injured or orphaned Orang-Utans, as well as those that have been confiscated from the illegal pet trade. When the rescued Orang-Utans first arrive at the centre, they are often quite sick and in need of medical treatment. They are nursed back to health and taught how to forage for food, climb trees and generally fend for themselves. They are then released into the surrounding forest reserve.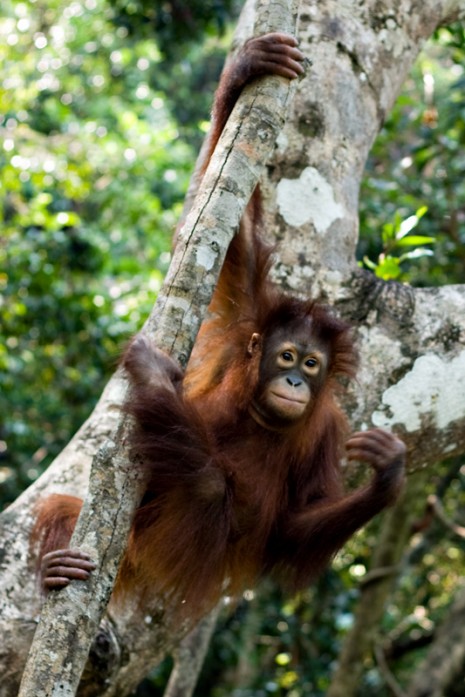 Once released into the reserve, the Orang-Utans spend most of their day in the forest, but return to the feeding platforms for an easy meal. There are two daily feedings at Rasa Ria which are open to the public. Each feeding is limited to 65 people, so be sure to book in advance as they are almost always full. The food supplied by the centre is purposefully designed to be monotonous and boring in order to encourage the Orang-Utans to start to forage for themselves.
On the day I visited three young Orang-Utans showed up for breakfast.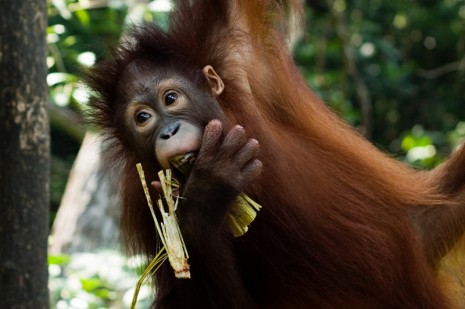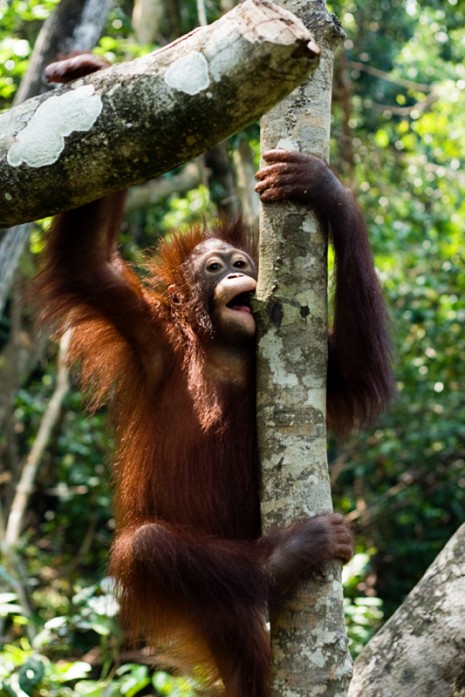 Things were a little uneventful at first while the little guys munched away, which caused the crowd to dwindle a bit when a few people got bored and a couple of children got cranky. Once they'd gotten their fill however, the three young Orang-Utans got quite playful. Rough-housing with each other, vying for the best spot on the tree. Swinging from branch to branch and quite often missing, hitting the hard underbrush with a thump before returning to trying all over again.
The feeding lasts only an hour and costs 65 Malaysian Ringgits, about $20CAD, (however if you're staying at the resort and willing to pay extra you can stay behind for a bit more of a personal experience).
All-in-all it was a great experience. Not quite as memorable as our trip to the Elephant Sanctuary (which is still one of my favs of our entire time in Asia) but a great way to spend a morning. That is… as long as you're not Mike and creeped out by monkeys!