Frequent moves are a part of life when you're a nomadic freelancer and when we move from country to country we try to settle into a location for at least a month at a time, often staying for a few months in one spot. But sometimes we'll move from place to place every couple weeks. Over time, I had hoped that we would turn into an elite team of baggage packing ninjas, but truth be told it still comes down to muscle and bullheadedness whenever we move our 70-80kg of gear. I'm still amazed that we have so much stuff, but there's a fine balance between packing light, living comfortably, and being work efficient. I thought it would be interesting, or maybe even helpful for a few people to see what we haul along to live like we do.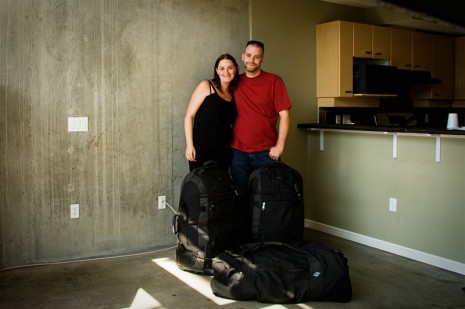 Computer Gear
HP HDX 16 Laptop
Macbook Pro 15″
Laptop Cooling Pad
2 iPod Touch mp3 players
Skype headset
2 sets of ear-bud headphones
6 backup hard-drives
DVD software backups
Wireless router
Various network & USB cables
Various power cords
Waterproof laptop bag
Laptop Backpack
Camera Gear
Canon D40 Camera
CompactFlash card reader
Ikelite underwater camera housing
2 underwater lens ports
4 camera lenses
Cleaning kit
Small tripod
Speed-light
Underwater strobe & battery pack
Various battery chargers
Clothes
Mike:
2 pairs of reading glasses
2 pairs of sunglasses
1 pair of jeans
10 shirts
5 shorts
2 pairs of socks
5 boxer-shorts
1 pair of flip-flops
2 pairs of shoes
1 hoodie
Hat
Kelly:
1 pairs of sunglasses
1 pair of jeans
12 shirts
3 sundresses
6 shorts
2 pairs of socks
1 pile of underwear
3 bikinis
3 pairs of shoes
2 pairs of flip-flops
1 sweater
1 hoodie
1 sarong
various bits of jewelry
Dive Gear
2 sets of fins
2 sets of booties
2 rash guards
2 dive masks
2 dive computers/watches w/mini compass
2 metal 'pokey' sticks
Retractable 40m spool
Dive buoy
Fin bag
Dive charts
Dive log books
Dive light (broken) :(
Dry bag
Large dive duffel bag
Misc
Passport Folder w/travel documentation and backups of IDs and cards
Kelly's purse and wallet
Mike's wallet
Waterproof wallet
Multi-tool/Swiss Army Knife
Small backpack for day trips
2 toiletries bags
Unlocked GSM cellphone and charger
Portable alarm clock
8 books
Resistance bands for work outs
Small first aid kit
Small flashlight
Baggage locks
Padlock
Pacsafe (wire mesh to wrap and lock around bags)
2 towels
Padded neck cushion
Inflatable neck cushion
Deck of cards
A pair of dice
Bottle opener
Lighter
Various shampoo, deodorant, lotions, sunblock, toothpaste, etc
Hair clippers/shaving kit
Nail clippers
Tweezers
Bug repellent
Tylenol
2 toothbrushes
3 months of contact lenses
Plastic bag of receipts for tax time
Laundry Bag
4 mesh bags
Notebooks and a few pens
Electrical tape
Various electrical plug adapters
2 huge rolling bags with shoulder straps to pack it all in
No matter how much stuff we get rid of from our bags, we consistently repurchase the same items in the next country we visit. So we've pretty much decided to stop culling the inventory unless it no longer fits into the bags or one of us develops serious lower back issues.