After a couple of very touristy days, we settled back into the laid back vibe of Tamarindo. Mike and I spent the days working and Lauren made the most of her last week of sun, by alternating between the beach and pool. We had a couple of good meals out, and Lauren finally got to have "Nachos as big as your ass"…. which were actually smaller than all 3 of our asses.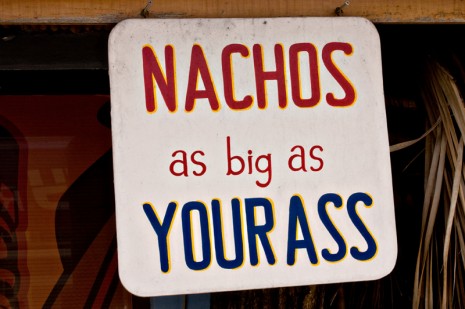 On Thursday evening we set out on a Turtle Tour in hopes of seeing a nesting Leatherback Turtle on Playa Grande. Playa Grande's three mile stretch of beach is part of the Las Baulas National Marine park, one of the largest Leatherback Turtle nesting sites in the world, and is strictly regulated in order to help protect the turtles.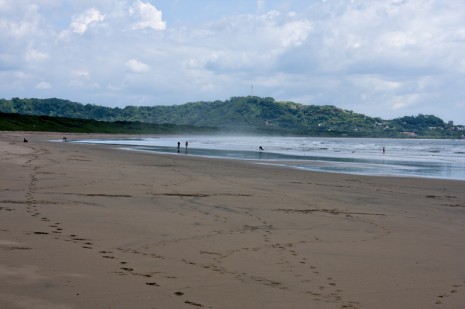 We weren't really sure what to expect from the tour, or how likely we were to actually see a turtle. When we booked the tour that afternoon, the tour office was boasting of turtles the size of cars, and how they saw 2 the night before. When we arrived at the ranger station however, our perspectives were slightly adjusted when we learned that in all of last year's nesting season (October to March) they had only seen 32 turtles.
Never the less, after a 15 minute briefing, we set out on the tour (with a lot more people than we expected). We boarded a small boat for a short ride across the Tamarindo Estuary. When we reached the other side, one of the Ranger's shined his flashlight on the beach, and scared off a small crocodile. Flashlights and cameras are not allowed so we waited in the dark as the boat went back for the other half of the group. We then followed one of the rangers single file about half a kilometer along a very dark path to the ranger station on Playa Grande.
Then the waiting began…
Every evening the rangers patrol the three mile stretch of beach keeping their eyes out for turtles. When they spot one, they radio to the ranger station letting them know where it is, and how far into the nesting process it is. On the night we were there, we'd been waiting for about 3 and a half hours when the call finally came through the radio. At this point it was already 12:30am, and we were just beginning to give up.
One of the rangers gathered everyone together and explained that the turtle was about a kilometer and a half down the beach and that only 15 of us would be allowed able to go. Fifteen is the park enforced limit for the number of people allowed to view any one turtle at a time. We had been told this when we booked the tour, and had also been told we would be in the first group. Problem was, everyone else had been told the same thing.
From this point on the tour went downhill…
The ranger decided that the best way to determine who would go, would be to draw numbers. If you got one of the first 15 you got to go, however then someone asked "What about couples?" so they changed it… if you got one of the first 7 you and your partner could go. We were unfortunately 3 people so weren't exactly sure how this was gonna work. Anyway… we drew numbers and I got #2, which meant that Mike and I would both be in the group going.
After drawing all the numbers and everyone coupling up, Lauren deduced that there were only 14 people, so just hung out beside us, in hopes that she could tag along as the 15th person. Since the turtle was about 1.5km it would take about half an hour to walk there in the dark. At this point is was already almost 1am, and understandably, the people who weren't in the group going, wanted to be taken back to Tamarindo rather than wait for an another hour and a half for us to return. The rangers said that wasn't possible and that they'd have to wait, naturally a bit of an argument started. They Ranger then said if we couldn't all agree no one would go…. In the end it didn't matter, because during all the time that was wasted deciding who would go and arguing, the turtle had finished it's business and we all missed it.
All-in-all it was a little disappointing… not the fact that we didn't get to see a turtle, but the chaos and the disorganization of the tour it self. Anyway…
* * * * * *
Saturday afternoon was "Booze-Cruise" time. We arrived at the beach, and once again found far more people than we expected. We waited in turn while they shuttled everyone out to the large catamaran in small groups. Luckily we were in the second group so were able to wait with drinks in hand for the rest of the passengers to board. We then set sail towards Playa Flamingo.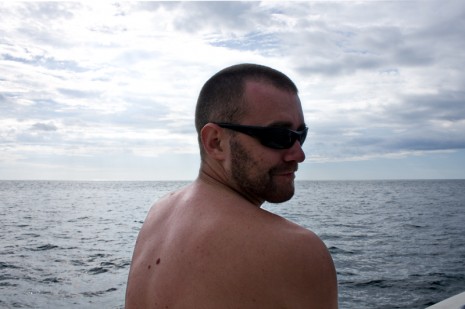 We were several Piña Coladas in when we started to notice that quite a few of the passengers were expats, and that a lot of them seemed to know each other. We had another drink, and didn't think much of it. We headed towards a little bay and all jumped in for a swim and a snorkel… unfortunately there were quite a few jellyfish and both Lauren and Mike got stung. So it was back to the boat for another drink. Booze helps jellyfish stings… right?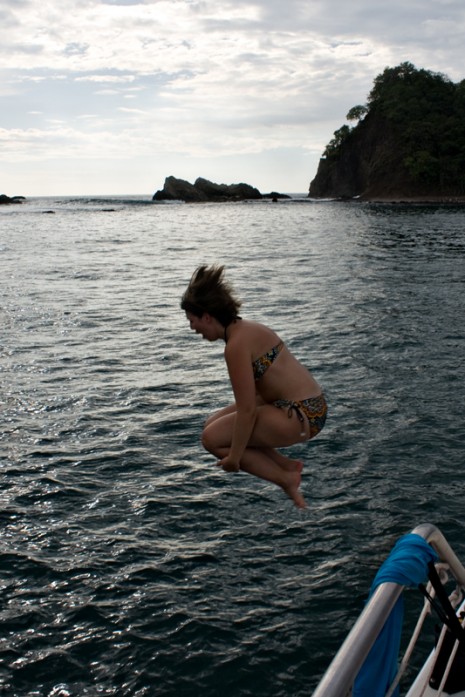 By lunch we had started to realize that no one else was really drinking (the boat was all-inclusive and had a stocked bar) and found it a bit strange that someone had stopped the entire boat before eating lunch to say grace. Again we put it out of our mind and had another drink. However, then came the guitars…. and the Jesus songs. Suddenly it all made sense, and we found out that were were the only people on the boat (with the exception of 3 girls who didn't speak english) not part of the church group.
So we had a few more drinks and we headed back to Tamarindo, enjoying the beautiful sunset.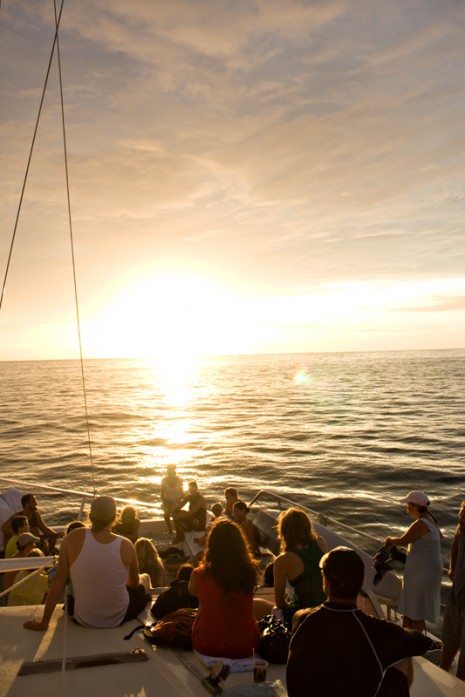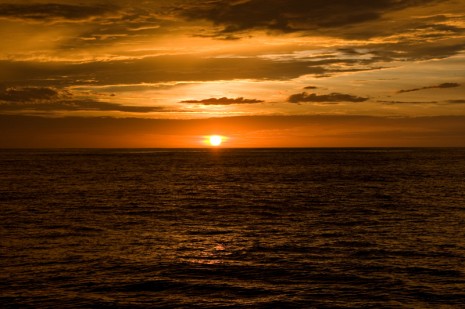 We stayed on board as they shuttled the church group to shore, and had a drink with the crew, the music was finally turned on, and Lauren got her Salsa on!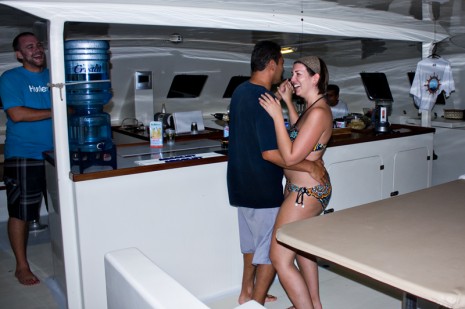 That night we made the rounds to a couple of bars in town and had several more drinks before calling it a night.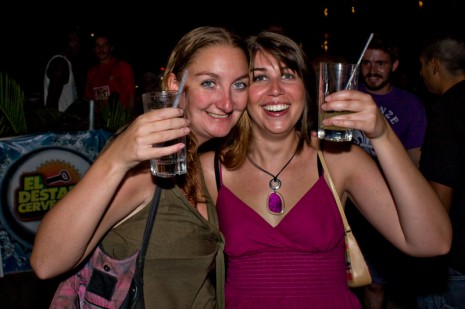 Sunday was not only recovery day, but moving day for us, and Lauren's last day in Costa Rica. Mike and I had to switch apartments cause the one we were in had been rented for a couple of weeks, but it was just across the courtyard, and we don't have much stuff so wasn't too bad. That night we had a great last dinner with Lauren, and said our goodbyes. It was a really fun couple of weeks and so nice to see a familiar face.