As a tourist in Costa Rica, you can stay for a maximum of 90 days before you have to exit the country for 72 hours before reentry. Shortly before Xmas, our first three months in Costa Rica were coming to a close. Nicaragua is considerably nearer to Tamarindo than Panama, so we opted to head to Nicaragua for a quick visa run. Being so close to Christmas, many dates for the buses to Nicaragua were already fully booked, but luckily we were able to book a couple seats on the Ticabus (around $40 each) to and from Nicaragua as opposed to the 'chicken bus' where you walk across the border and catch another local bus on the other side.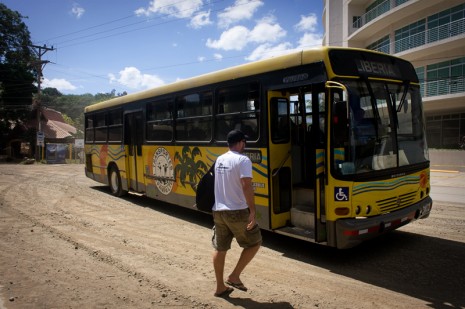 We started off catching the local bus to Liberia from Tamarindo around 11am. It meanders through each locality on its way to Liberia and took us around 2.5 hours to arrive at the main bus station. A quick taxi ride back one station brought us to where the road from Tamarindo meets the main highway. Having no idea where we were, we had just missed our stop. The cost for the 1 minute taxi ride nearly equaled the $3 we had paid for our 2 hour bus trip. We stopped for a bite to eat at the restaurant beside the Ticabus stop and awaited 3:30 when the bus from San Jose to Nicaragua was supposed to arrive. 2 hours late, the bus finally showed up around 5:30. We kicked a couple people out of our seats and 6 hours after we began, we were finally on our way to Nicaragua!
An hour from the border, we began passing the queue of semi-trucks. Some of them would be waiting days for their turn to cross border inspection. There being only 2 lanes, we were passing in the oncoming lane and often had to stop while the bus driver finessed the bus past traffic on the soft shoulder.
Arriving at the border and exiting the bus to obtain our exit stamps, we were bombarded by money exchangers snapping their wads of Nicaraguan Cordobas. We then had to go through Nicaraguan customs where the bus was unloaded and searched. We gave our passports to the customs official and with our few bags, limited Spanish, and repeating "Turistas, turistas…" we were simply waved through.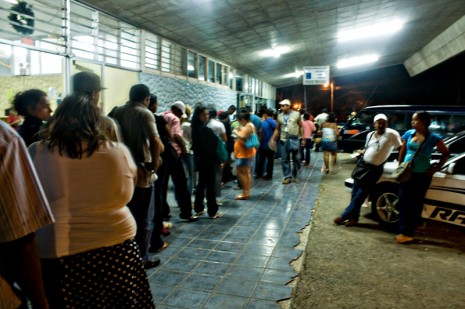 A few short hours later, we arrived in Granada and grabbed a cab to our quaint colonial hotel near the central park, appropriately named "The Colonial Hotel". 12 hours after leaving the house, we had arrived approximately 200km from our starting point. Kelly and I are pretty easy going, but our first experience with bus travel in Central America had proved to be a test of patience.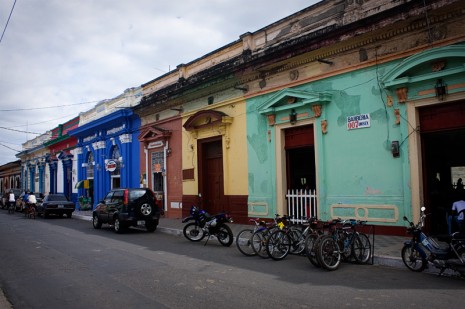 Granada itself is a quaint colonial city on the shore of Lake Nicaragua. It reminded us very much of our favourite town in Brazil, Paraty. Plenty of places to stop for a drink or a bite to eat. Many of them set up in the courtyard gardens of the old colonial homes. We wandered around the downtown district for a few days exploring the local markets, the bell tower of a church which gave a spectacular view of the city, and stopping in various cafes and street side bars with tables set up on the sidewalks.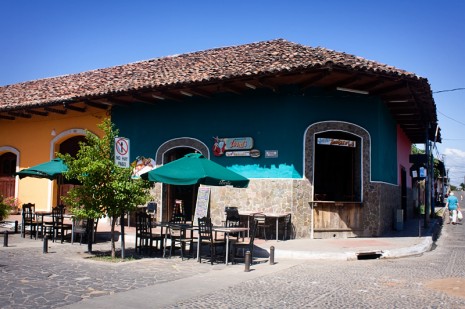 At one of these sidewalk tables we met a local brother and sister with her American husband who were having a round of 'Micheladas'. It's a Latin American drink, sort of similar to having a Caesar or a Red Rooster with breakfast. A rumoured hangover cure (or just a refreshing afternoon drink), it's made by pouring a beer into the juice of one lemon, a dash of soya sauce, Worcestershire, and Tabasco, salt, pepper, and ice. Some insist on adding a shot of tequila as well. It won't replace Caesars for us Canadians, but it's a nice alternative when Clamato juice is scarce.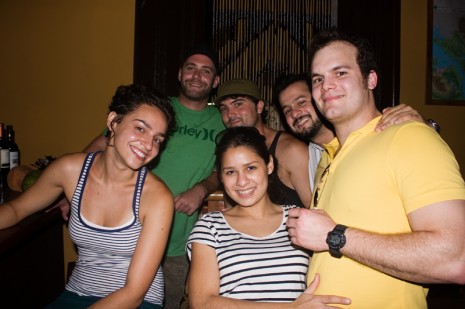 I'm also a fan of the local Nicaraguan rum, which I was introduced to on my previous trip to Costa Rica 7 years ago. It's made in Chichigalapa (just outside of Leon, about 2 hours north of Granada) at the Flor de Caña distillery. We tried to arrange a tour but unfortunately it wasn't open on Sunday, or wasn't open for just the 2 of us. We're not sure which. It was the last day we had available for a tour before we headed home, so we opted instead for a boat ride amongst the nearby islands on Lake Nicaragua.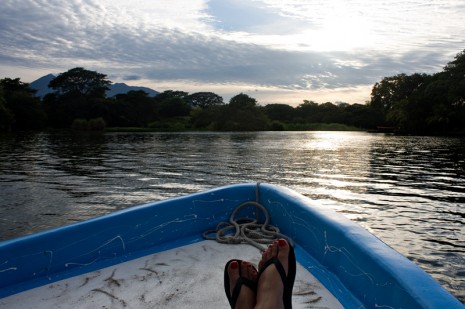 We were driven around a maze of small islands and given a fairly lengthy lesson of Granada's history by our guide. We stopped to roam an old fort and then floated around multi-million dollar homes owned by Nicaragua's elite, stopping to feed a troop of monkeys that were rescued by a doctor who resides on a nearby island. At one point, we were given the option to go for a swim… but after seeing the amount of trash on the shores and viewing the framed jaws of the bull sharks that apparently still patrol the waters of Lake Nicaragua, we passed and stayed dry.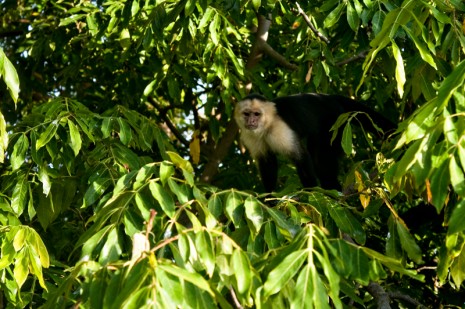 After 5 days in Granada, we boarded the Ticabus again to return to Costa Rica. Things began a little smoother with the bus arriving from Managua on-time around 1pm. We went through the border and arrived in Liberia around 7pm. We had some conflicting information on when the last bus to Tamarindo was, so we ended up waiting for 2 hours with a group of surfers who were also en-route to Tamarindo, before it became apparent we had missed the last bus. We arranged for a large van to drive all 9 of us (plus bags and surfboards) home. It was a tight fit in a slow van, but eventually we arrived home around 10pm. Only 9 hours this time… not bad! ;)
We're happy to be back with the comforts of home and have since spent nearly everyday on the beach soaking up the sun. It's unlikely we'll need to do another visa run following the next 3 months since we'll be moving on, but we will have to follow the same route once more when we make our transition to Honduras. Now that I'm in the know, I'll be packing a few Micheladas to-go to ease the journey.
A few more Granada pictures: