I haven't been getting my motor-sports fix lately, so Kelly and I decided to take an ATV trek this week. We booked a tour with FourTrax Adventure ATV tours and were picked up by a shuttle and transferred to the briefing point, a few minutes outside of Villa Real.
We ran over the basic controls; pretty familiar for a motorcycle rider, and took the ATVs for a quick test lap around the property. Because of the lack of counter steering on an ATV, it wasn't immediately as intuitive for me as a motorcycle, but I got the hang of it soon enough.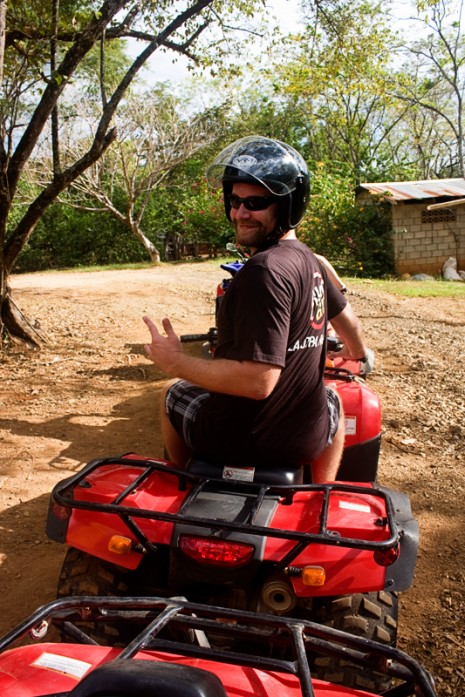 We took off at a beginners pace, driving on some fairly simple dirt roads and a bit of tarmac. We then crossed a washed out road full of water and began tackling some more challenging inclines, ruts, and loose gravelly sections. Pushing through one particular puddle, I splashed water up onto the engine which super heated it and then onto my bare legs. Ouch! Shortly after, Kelly got a little over ambitious and ended up in the bushes for a bit. A few prickles, but no real harm done.
We drove on for about an hour, picking up speed and confidence as we went, eventually arriving at our destination: "Bahia de los Piratas" – Pirate Beach, a small beach amongst the cliffs east of Tamarindo. We we're covered in dust and everyone in our group of 8 had a spectacular dirt beard, so we stripped down to our swim gear and plunged into the surf.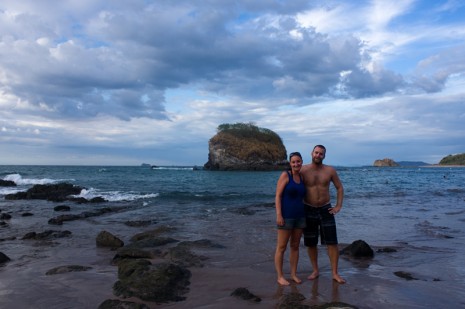 On the trip home, I opened up the ATV a bit more. Racing through some mud, over some craggy steep hills, and even a few small jumps, drifting, and power slides. All in all, it was a great excursion and I'd definitely recommend it to anyone who needs a little fuel injected fun.