After 6 months, our time in Costa Rica has come to a close. Last week we woke up early to take the 5am shuttle to Liberia from Tamarindo. Around 9am, we boarded a Ticabus headed to Managua, Nicaragua. A few hours later, we arrived at the Nicaraguan border to find a HUGE line. Spending the next 3 hours frying our brains in the sun while we waited to get our exit visas, then another hour waiting as the Costa Rican DEA randomly selected our bus for a screening, and then another hour getting our entry visas in Nicaragua. During all this, the Canadian men's final hockey game was going on… something we had realized only a few days earlier. Oops, bad scheduling on our part and we had hoped to make it to our destination on time to catch it. But we did meet a few people on the bus and chatted the hours away.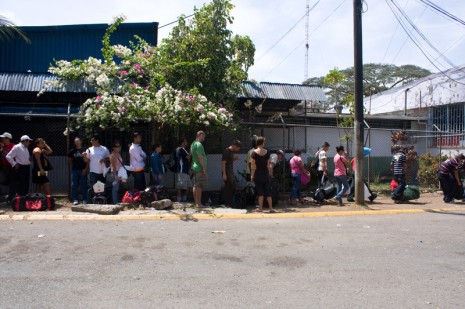 We arrived in Managua around 7pm. Asking at the front desk of the Ticabus Hotel (a bit of a dump, but you can't get any closer to the bus station) where to go for a quick bite and we were told to head for the Mall for safety and selection, so we hopped in a taxi. 5 minutes later we arrived at an extremely busy food court complete with karaoke. After a quick McBurger; only the 2nd time we've had fast food in the last 6 months, we headed back to the hotel, massively over-tipping the taxi driver by mistake when I did the conversion from Nicaraguan cordobas to Costa Rican colones to dollars wrong. Another oops and definitely not the last. We crashed out early, watching the closing Olympic ceremonies on tv.
With a 3am wake up call and a 5am boarding, we were headed next for Tegucigalpa, Honduras. We arrived at the border and into Honduras with minimal effort. Arriving in Tegucigalpa 7 hours later; we split a taxi with Peter – another Canadian who we'd met on the bus and was going the same way, and headed to another bus station. When we arrived at the station, the taxi driver wanted $15 a piece for the 10 minute ride. Oops. Always negotiate the price beforehand! We bartered and complained him down to $5 each. Still not exactly a deal.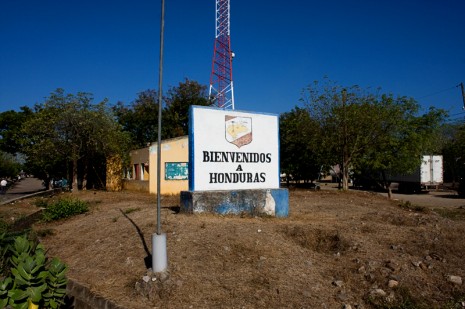 We grabbed a quick lunch of chicken and rice from a little cafeteria and then got onto another bus headed for La Ceiba. This time with no air conditioning and another 7 hours still ahead of us. After a very sweaty ride and a few liters of water we arrived in La Ceiba. Staying downtown near the ferries there weren't too many options beyond a Pizza Hut and a Wendy's, so we went for a pizza and a beer. Unfortunately, the restaurant had run out of beer! Ugh, the hardships of being on the road. ;) Downtown La Ceiba didn't really seem to have much in the way of options, so we headed back to the hotel.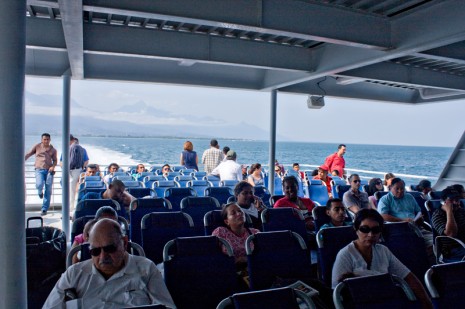 The next day we woke up early again and caught the 9am ferry to Roatan. We caught a collectivo taxi and headed south to Casa Calico where we'll be staying for the next couple months. We unloaded the car and checked in, only to realize that in all the bustle I hadn't grabbed my laptop bag! Shit. Panic ensued. My laptop, my dive computer, my backup drives, everything was in that bag. We ran up the street to where Peter was staying, but the driver had already been there and gone, headed to the hotel of the 3rd couple in the van. While I went to the main road to possibly catch him if he headed north to the ferries again, Kelly went to the house and talked with the front desk about how to get in touch with the driver's company and made a few calls. 15 heart pounding minutes later, they'd tracked it all down and he was headed back our way. Needless to say, the driver got a bigger tip than the one I had previously miscalculated. But lesson learned, don't carry your backups in the same bag. Kelly and I will swap drives from now on instead.
And so ended 3 very long, uncomfortable days on the road with over 20 hours spent in a bus. Kelly and I are very happy to have arrived. We're not really emphatic travelers, preferring the destination over the process of getting there.
So far, we're loving Roatan. It was cold when we first arrived. Around 27 degrees Celsius, which was an adjustment after the months of 36 degree weather we've been having in Costa Rica… but it's warmed up considerably already.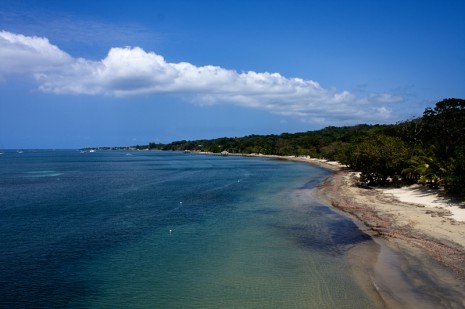 As is the case with most dive destinations, the people are very friendly. Will from the dive shop even took us out scouting for apartment options when we first arrived and the dive crew are a hilariously good time. We've already made some new friends and gotten a ton of advice about living on Roatan. We're stocked up with a kitchen, have done a few dives already, and had a few good nights out on the town with our new friends. So we're settling in nicely, back to work, and enjoying our days off in the water.