We arrived in Roatan in early March just as the last of the seasonal storms were coming through. Scouting out a place to stay for a few months we found a large range of options and locations but we quickly focused on 3 areas on the west side of the island due to their proximity to grocery shopping, beaches, entertainment, and dive shops. The island is quite hilly, so a car or scooter would be a necessity in many areas if you don't want to be taking a taxi 10 times a day.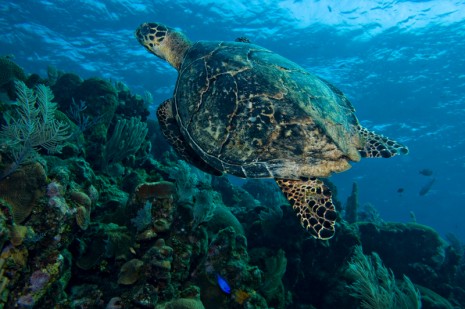 West Bay is the nicest sandy beach on the western side of Roatan. Located at the southwestern tip of the island, it's frequented by up to 4 boats of cruise ship passengers for 4 days of the week, priced to match, and blissfully quiet for the other 3. There's a few bars and restaurants on the beach but after sundown things tend to get quiet. There's a hand full of dive shops, a number of nice resorts, and a great little deli for sandwiches and imported foodstuffs. We like to head down here on our days off to hang out in the sun and go swimming/snorkeling in the clear waters.
The West End stretches from Half Moon Bay to West Bay. It's at the budget end of the spectrum with smaller slivers of sandy beach, but there are upper scale options to be found. We decided that the West End had the most established dive shops, 4-5 good bars, 10-15 restaurants, a few small grocery stores, and it's where we found the social scene to be just our style. Laid back in the day, a couple good dives, then off to the bar for a burger or a balleada (a tortilla with beans and usually chicken) and a couple beers with your fellow divers. Perhaps followed by a crazy night out at one of the bars down the beach. Pretty much everything is in walking distance aside from the major grocery stores located in Coxen hole and French Harbour, which is a $10 half hour cab ride north, though there are a few smaller grocery stores and convenience stores in the West End. Also of note are the fresh fruit and vegetable trucks that park along the street each afternoon, selling most of your standard veg.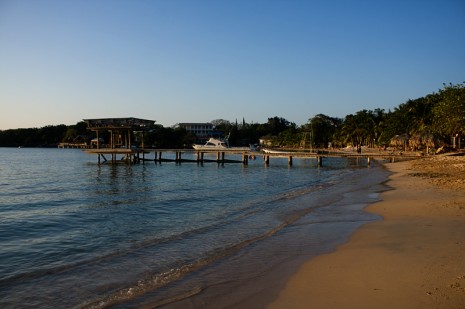 It's approximately a 45 minute walk from the West End to West Bay. Take sunscreen, water, and be prepared to get your feet wet, but it's a nice walk past beachfront houses and some of the resorts off the beaten path. Water taxi boats also run from sunrise to sundown for $3/person. And a regular taxi will cost you $5-10 for the trip. Remember to clarify with the driver the cost per person upfront. A little too often we've ended up at our location to find the driver expects the negotiated cost for each of us.
Sandy Bay is north of the West End and has the longest stretch of beach of the three. Home to some of the nicer restaurants and many gated vacation home communities and condos it's more remote and at the uppper end of the scale.
As far as costs go, there's a pretty wide spectrum of both price and the amount of comfort you'll have for what you pay. From $300 a month for a small room with a fan, to 1 bedrooms with air conditioning and a kitchen for $700-$1200 a month, and multi-room cabanas and vacation rentals with private pools for $100-$200 per night and up. Being semi long term oriented and needing comfort and connectivity, we opted for a 1 bedroom with a kitchen and A/C for 3 months at the northern end of the West End.
Eating out at restaurants can be a costly expense on the island. You can find small local run restaurants with cheap local fare, but many of the larger restaurants along the beach charge upwards of $10-15 for an excessively huge plate of pasta, or $12 for tacos or burritos, the quality of which doesn't compare to the local Mom 'n Pop shops. There are a number of lower cost options to be had though as some restaurants cater to the dive shop staff's $5 meal philosophy. We've also attended a number of communal cooking nights at some of the shop staff's houses and at a bar that likes to host the events. Everyone pitches in $5 and a helping hand to make a giant pot of chili, burritos, carbonera, or whatever the meal might be. It provides a good social event where everyone can get together with good food and friends, have a few drinks, and a lot of laughs.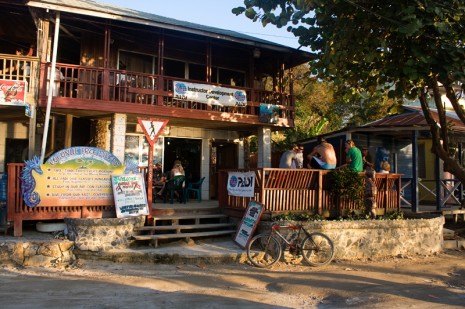 Shortly after getting settled, we wandered down to the dive shop. Kelly had been emailing back and forth with Will from Coconut Tree Divers before we'd arrived and he and the other staff at Coconut Tree have gone out of their way to make sure we're comfortable, happy, well oriented, and very well entertained. We've tried to get in at least 2-3 dives a week and have managed to visit many of the sites along the west wall. The diving itself isn't phenomenal compared to our last year in Southeast Asia, but after the lack of diving in Costa Rica, we're making the most of it. Hilights so far have been coming across 3 sleeping nurse sharks, huge lobsters and crabs, diving the El Aguila wreck with it's massive groupers, some interesting swim throughs, a huge seahorse, and turtle and eagle ray sightings. All in all, there's no such thing as a bad dive in my books, but we've missed the deluge of macro life from last year. And yes, I know I'm spoiled rotten.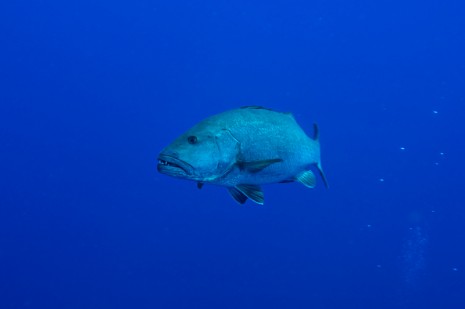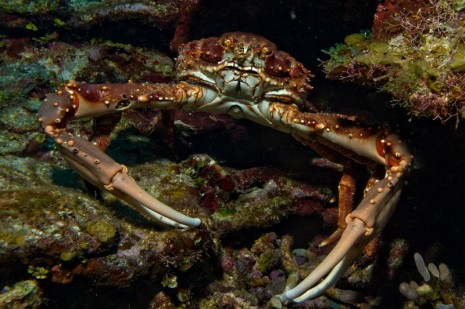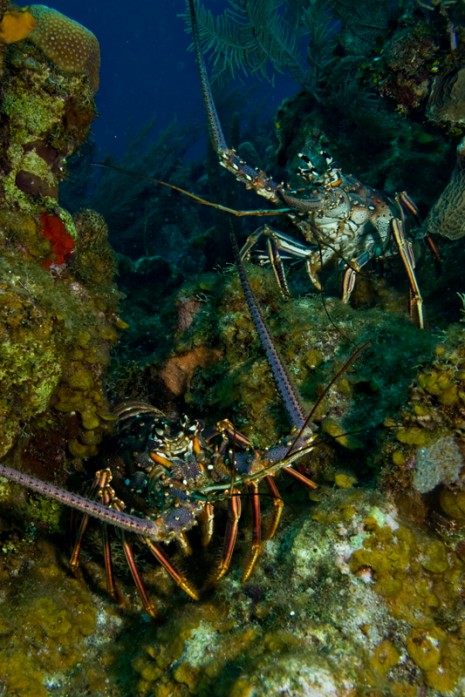 Kelly and I also recently had the opportunity to try out some alternative dive gear since Coconut Tree has tec diving courses and a lot of people dive with a harness/back plate/wing setup instead of a standard BCD. We were warned that if we tried the setup once, we'd end up buying one… and sure enough. After a handful of dives, the order has been placed. The streamline feel of a harness and wing underwater compared to a bulky BCD, plus the even weight distribution with the back plate quickly drew us in. It's very compact and will travel well, not to mention that we've been unable to find reasonable camera and computer insurance for Canadians as of yet. Buying full dive gear will enable us to insure everything through DAN (Divers Alert Network). So it's a big win all around and we get new toys.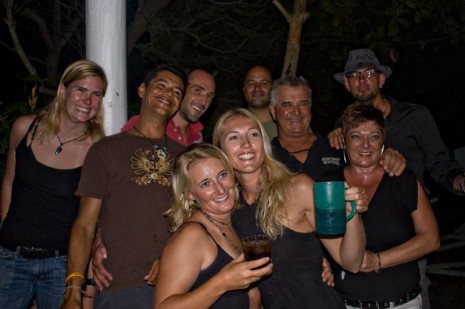 Aside from life underwater, we've been working lots as usual. We went to a play in Coxen Hole, saw a crazy one man band live show, and have celebrated a few new friend's birthdays, including the dive shops 8th birthday. We've spent days relaxing on the beach, and many are concluded by watching the sunset at Sundowners which is our new local. Really, we've found a nice work/life balance here with a great social scene and I'm somewhat loathe to move on to the next destination. I think they told me about Roatan's magnetic properties too. :)