After 3 months in Roatan, it was time for us to get back on the road again. We are headed up to Belize for a little vacation from our permanent vacation. So we're closing the laptops for a bit, taking a break from checking emails, and working on our tans which are surprisingly weak after this long in the tropics!…
We packed up our things (including 50 lbs of new dive gear) and headed out the door to catch the 7am ferry from Roatan back to La Ceiba. An hour later we were in a taxi headed to Puerto Cortes, north of San Pedro Sula. We had to stay overnight in Puerto Cortes and booked one night at the Brisas Hotel on Coca Cola beach (named for it's proximity to the bottling plant). Puerto Cortes was a little thin on entertainment, so we splashed in the pool, had a bite to eat, and retired early along with a new frog buddy who apparently lived in our sink.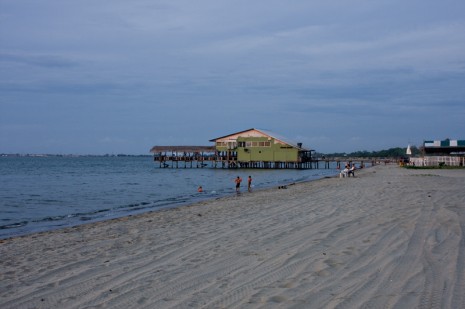 The next morning we showed up at the port for the D-Express, a once a week fast ferry from Puerto Cortes to Placencia, Belize. They loaded our bags onto the boat, which is always an interesting affair. Watching 60 year old porters struggle with our bags down into the hold is still uncomfortable, but they refused any help I offered. I'd estimate we have around 200lbs of gear now, but I'm guiltily looking forward to our next flight to confirm our baggage overage. It's a bit excessive at the moment.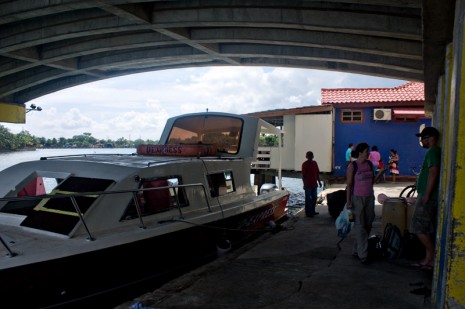 The D-Express crew then drove us to the immigration office in the back of a pickup and we got our exit visas. After which we chatted for 4 hours with a Norwegian couple while the rest of the passengers arrived and went through the same process. We're nothing if not punctual…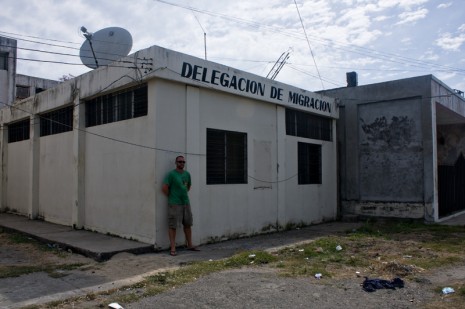 Around 12:30 we left the port on the 50 passenger fast ferry, bouncing across the waves at full throttle, a girl in the front of the boat yelping with each crash and bang of the bow. Thankfully, we've learned from previous experiences that the best seat is in the middle of the boat. Not far enough ahead that the bouncing shatters your spine, and not far enough back that you'd get thoroughly soaked by every wave or scorched by the sun.
2 hours later we arrived in Belize. Holy flatness! I think that if you stand on top of a speed bump you can see the other side of Belize. We went through a funny little immigration and customs process where they unload the whole boat 10 minutes from the port, don't check anything, then load it all back on the boat.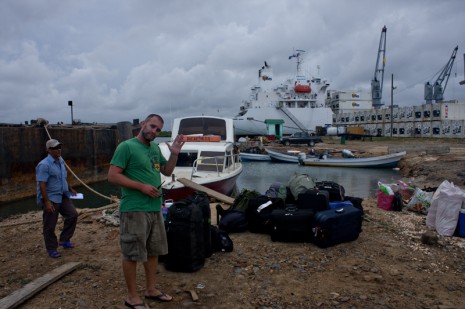 After a short trip to the dock we arrived at Placencia where we were met with the strangest sight of all… nothing. There were no taxis, no vendors, no porters, no anything. We're so used to being prey for the various tourist predators that lurk around airports and ferry ports, we were truly shocked by the lack of our usual welcoming committee.
Flagging a taxi van, we had a quick ride to the Laru Beya hotel (our home away from home for the next 2 weeks) just as it started to rain. The storm quickly escalated and I'm glad we arrived when we did because the sea quickly turned ugly and that trip could have been a lot more uncomfortable.
Our first impression of Placencia is that it's a small quaint town. There's a few nice resorts, a handful of hotels, restaurants, and bars. It's looks to be a sleepy little place by the sea where can unwind next to the pool, watch the pelicans and frigate birds soar by, eat a pile of shrimp, do a couple dives, and have a few ice cold beverages.