I know we've said this before, but Mike and I really aren't very good tourists. I've seen my share of temples and cathedrals, and museums have never really been my thing. That being said, every once in a while I drag Mike out to do something touristy, mainly because I feel like we should… I mean we may never be back, so might as well see it while we're here, right? The ruins of Tulum, were one of those things.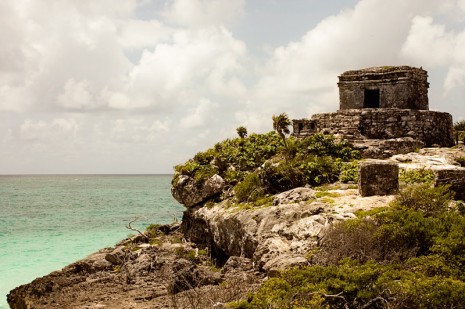 Unlike most of the people we know, this is our first time to the Mayan Rivera. It seems like most of our friends at one time or another have done a package trip here, and have ended up visiting Tulum. Most people say it's a "must-do", so one Saturday when the dive boat was full we decided to check it out.
Getting to Tulum from Playa Del Carmen was really easy. We took a quick 20 peso ($1.60 CAD) taxi from our apartment to the ADO bus terminal, where we caught the bus to Tulum, for another 58 pesos ($4.70 CAD) each. The bus ride itself is air conditioned and very comfortable. It's about an hour and a half ride from Playa, and the bus drops you right at the entrance to the Ruins. From there you can either walk the 5-8 mins to the main gate, or you can pay 20 pesos and take the little shuttle.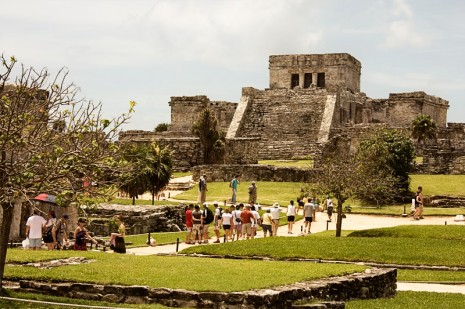 By the time we got there, the tour buses were already out in full force. We paid our 63 pesos ($5.10 CAD) admission and made our way to the entrance at the side of the grounds. First impressions were a little disappointing. I'm not entirely sure what I was expecting, but I guess I just thought as a whole it would be a little more substantial.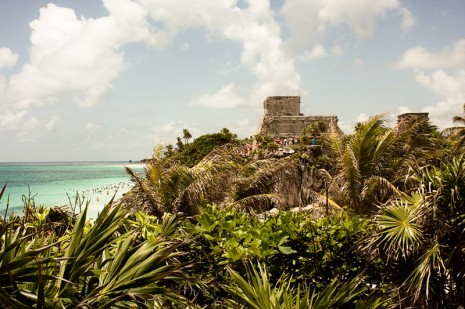 The setting is beautiful, with the backdrop of turquoise blue waters, white sand and palm trees, but the place is crawling with people! The ruins themselves are quite small, and all cordoned-off, so you can't get very close. The grounds are overly manicured and there is very little shade, so wear lots of sunscreen and don't forget your water. To be perfectly honest I was more interested in the dozens of iguanas and lizards that roam the grounds than I was with the actual ruins.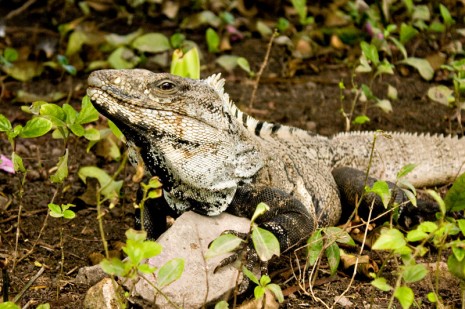 From the edge of the cliff there is a staircase that winds down to a cute little beach, which would be a perfect place to cool off if it weren't for the hoards of people with the same idea. Mike and I took one look and the crowed water and decided to take a pass in favor of a cold beer and some lunch.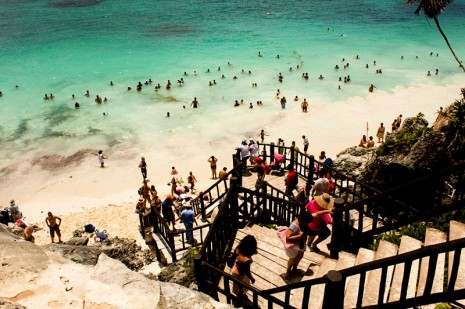 All-in-all we were in and out of there in about 45mins. We headed into the town of Tulum, and found a great little restaurant with some of the best ceviche we've had since we've been in Mexico. We took a little stroll down the main street of Tulum, and then caught the bus back to Playa.
I have to admit that even though we weren't blown away by the ruins themselves, I'm glad we went. It was a nice day out and a change from our usual life of working and diving. Now I can check it off my list as something we've done and not have to wonder what we might have missed.