The first time we visited Malaysia, we flew into Kuala Lumpur and fell in love with some elephants at the elephant sanctuary, arranged our 3 month Thai visas, ate a ton of hawker food, and shopped till we dropped.
The second time we found out the hawker food was even better in Penang, dove the Perhentian Islands, dove with turtles and sharks in Sipadan, and had an amazing experience riding motorcycles in Malaysian Borneo.
This third time, we laid on the beach!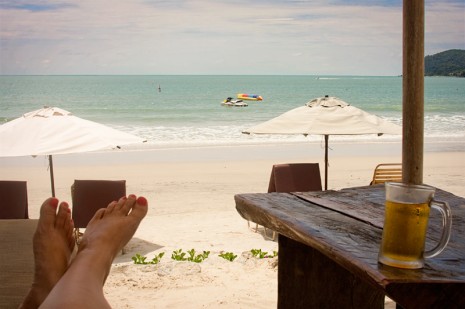 After 6 months in Europe and the UK, we decided to head back to Malaysia to enjoy the tropical climate while Australia warmed up. After a few initial days in Kuala Lumpur, Kelly and I hopped a quick Air Asia flight to Langkawi. It was a short shuttle from the airport to our home for the next few weeks. We had rented a unit unseen at Casa Fina bungalows on Cenang Beach (the main beach in Langkawi). It was a small space, but had reliable internet, hot water, it was clean, modern rooms, and had a small fridge. All we needed at the time, though we were hoping we'd find a place with a kitchen for a decent price after having been on the road eating in restaurants in the EU for the last month or so. After a week or so, we had looked around the town of Kuah and the other nearby beaches and ended up booking the remainder of our time at Casa Fina. It's nice when your initial online booking instincts end up being right and you don't have to shuffle somewhere else.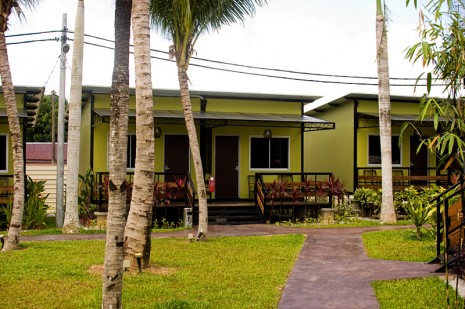 Langkawi is a duty free island. So the majority of people there are purchasing a huge amount of goods from the duty free stores that dot the main streets. It was a great place to buy cheap beer and liquor, chocolates, perfumes, watches, etc. But you had to watch the prices. Just because it was duty free didn't mean it was cheaper than online options. Mostly, we bought Reese peanut butter cups and a lot of Tiger and Carlsberg beer. ;)
Cenang Beach is approximately 10 minutes from the airport by car and stretches a good kilometer or two down to Pantia Tengah (the really quiet beach). While huge, it isn't flooded with tourists, or restaurants, or clubs, but there's a significant occupation of seadoos, jetskis, and parasailing during the day.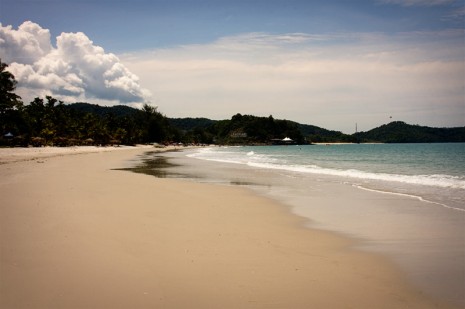 There's a few decent places to eat or have a drink on the beach while watching the sunset, like The Yellow Cafe and our personal favourite Raffi's bar. At night, Babylon was the place to go for some rasta grooves and cheap beer, or Debbie's Irish Pub for a pint of Guinness. But all in all, it was a pretty quiet scene. There's plenty of restaurants along the main road, but opening hours will vary. You'll find a lot of Chinese, Indian, and Malay cuisine and alcohol licenses will be hit and miss due to the differing religions in the area.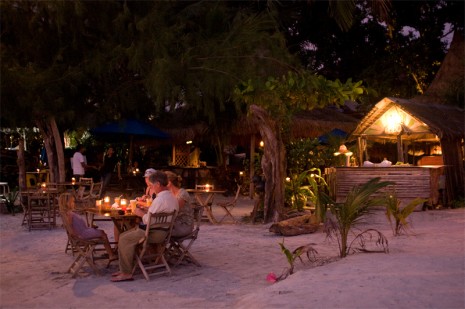 So we worked. And laid on the beach. And hung out at Raffi's with our favourite bar stars: Bob, Shawm, and Rocky who took very good care of us. And then it rained… So we started hitting up the tourist attractions.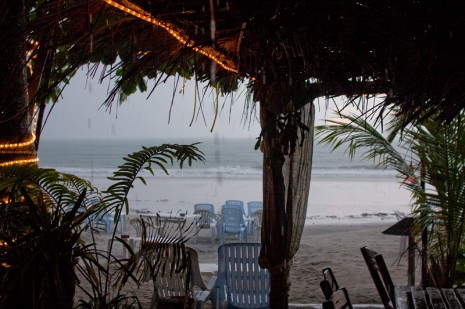 We started off at Crocodile Adventureland! There's well over 1000 crocodiles in various enclosures. They're pretty sedate, basking in the sun and rarely moving… until feeding time that is. They put on a few shows a day, but there is this one enclosure with a wooden bridge through the middle and a pool about 3m below with literally hundreds of crocodiles in it. The whole time I was walking on it, I couldn't help but think what would happen if an earthquake struck or if I ate one too many laksas and collapsed the thing. An employee came along blowing his whistle, and entered the enclosure with a bucket of chicken parts and bundles of fish. After a couple minutes of tossing the bundles to various crocodiles; listening to the 'CLOMP!' as their jaws snap shut, he was quite surrounded and backed out of the enclosure while rubbing the croc's noses with a stick to keep them at bay. They must be well fed because only 10-20 crocs came over for feeding while literally hundreds of others basked on the banks and paid him no interest. We carried on and saw baby crocodiles, caymans, and turtles, as well as a bunch of crocodiles with malformed tails in some sort of breeding/hospital setting. It was interesting, but unguided and without much information posted about what you were looking at, it was short lived past feeding time.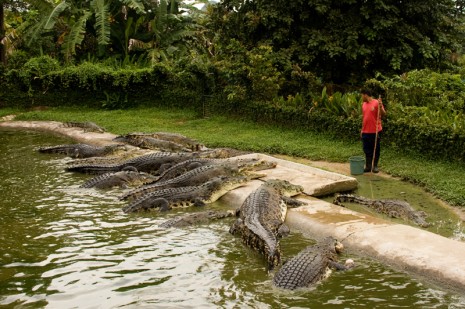 Our next rainy day was spent at Underwater World, literally across the road from our room. We tend to spend a lot of time in aquariums when we aren't diving, so the Langkawi aquarium was an obvious must. It's one of the largest aquariums in South East Asia. Its exhibits are divided into zones (temperate, tropical, freshwater, marine, etc) with a range of birds, reptiles, coral, fish, and many creatures we haven't seen in the other aquariums we've visited.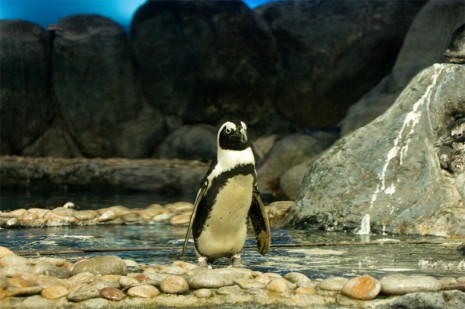 They have a number of penguin exhibits, stingrays and sharks in tanks which you walk underneath. It's very cool to see the underside of stingrays and sharks for a change! They have otters, jellyfish, lionfish (STAB! – sorry I can't help myself after months in the Caribbean fighting their invasion), seahorses, and even leafy sea-dragons which I've never seen anywhere else.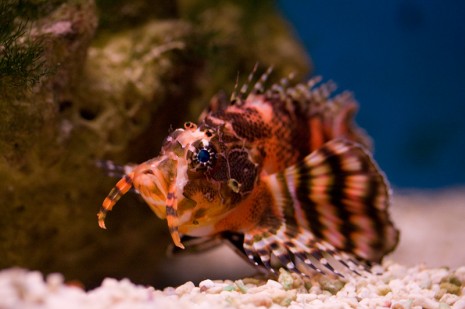 All in all, it was a really nice aquarium, but it was oddly broken up every few minutes by stations where people were selling tourist nicknacks. There were also a ton of children running about, seemingly without any supervision since they were ignoring the "DO NOT TAP ON TANKS" and "NO FLASH PHOTOGRAPHY" signs everywhere. I was aghast when one took multiple flash photos of the leafy sea dragon and I watched it physically recoil next to the "can die from shock due to flash photography" sign. Attempting to explain the situation resulted in me getting my photo taken…
Next up was the Langkawi cable car and sky bridge. We actually had to wait for a break in the rain to do that one. If it rains, they close the sky bridge until it dries. The cable car is a little over 2km in length with a middle viewing station before continuing to the top and takes around 1/2 hour round trip, minus any time spent hiking the sky bridge. The steepest gradient is 42 degrees and it rises 680m from the base to the peak.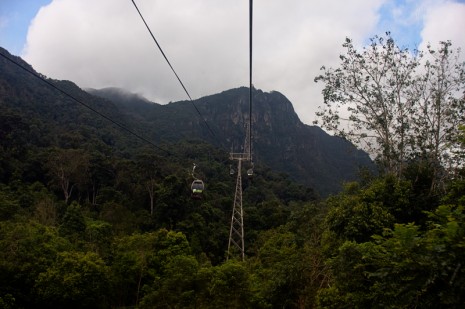 To put that in some perspective, the Sugarloaf mountain cable car in Brazil is only 396m high. Kelly had a few freak outs when we'd roll past and bounce over some of the posts that support the cables. As much as it was like a fast lift up the ski hills back home, this was significantly higher and steeper!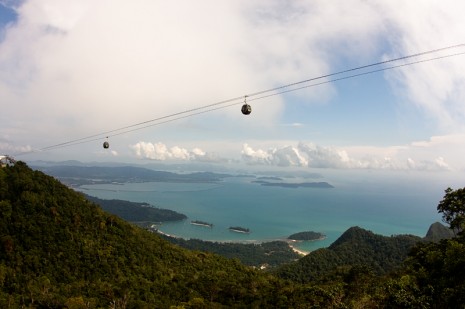 The sky bridge itself spans 125m between two peaks with a vertical drop of 700m. Honestly, it scared the bejeezus out of me. I had to shuffle across this thing holding the rail, not looking down, and the movement of the stone rails laid across the metal frame really freaked me out. I'm not a sissy about heights when anchored to the ground in some fashion, but with the fog and wind and… yeah, scary! Both Kelly and I definitely had our moments on this outing, though the views were fantastic when the fog broke.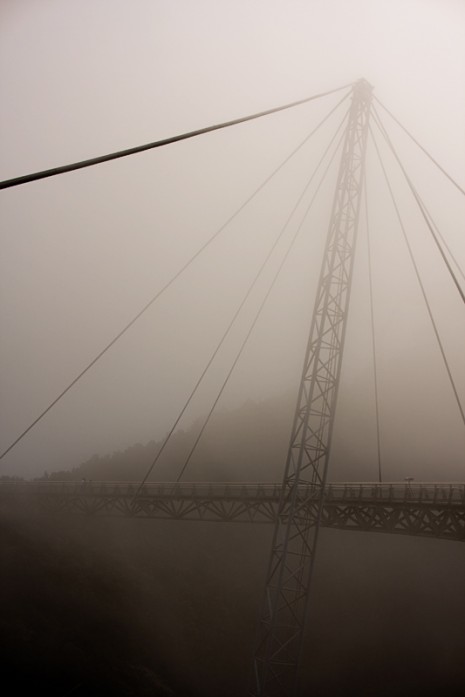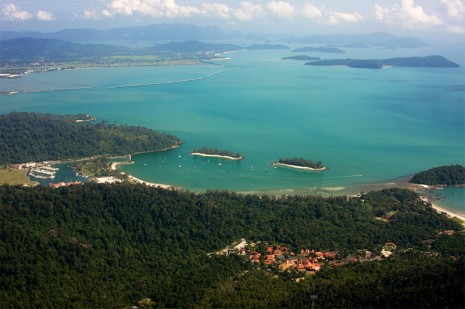 Lastly, we decided to hit up the night market in Kuah in hopes of finding some hawker food to rival our previous Malaysian street food experiences. Unfortunately, it wasn't to be. While the night market has a lot of good food like satay and murtabak, it couldn't compare to the hawker stalls of Penang and Kuala Lumpur with their seafood culinary bonanza.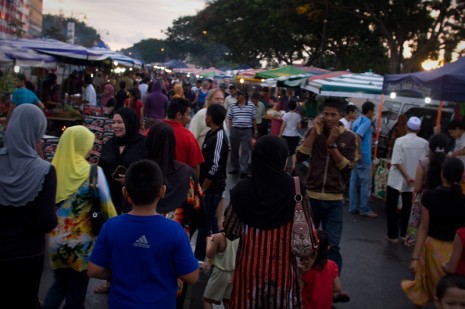 We wandered for a while eating fish balls and other appetizers, but didn't find any laksa, fresh seafood grill or bbq, or decent noodles, and ended up sitting down at a nearby Chinese restaurant for some crispy pork (a rarity in a lot of Malaysia), rice and veggies.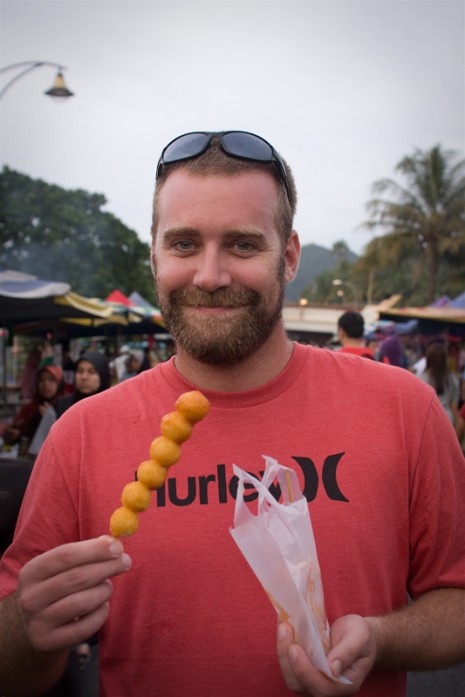 Overall, we struggled to find a lot of stuff to do to occupy ourselves in Langkawi, but at the same time we really enjoyed the slower pace of the island after our time back in civilization. I'd definitely go back for a relaxing beach vacation and would next time rent a bike to explore the other side of the island more thoroughly. All in all, it was a month well spent.