Last time I was in Thailand I never got around to taking a cooking class. It's something I really wished I would have done, so this time around it was at the top of my list.
Tuesday morning we were picked up from our hotel and driven half way around the island to The Phuket Thai Cookery School. Sure, there were closer ones to our hotel, but most were more expensive, shorter, or just didn't look as good. Plus the Thai Cookery School looked like it was the most hands on, which is what I was looking for.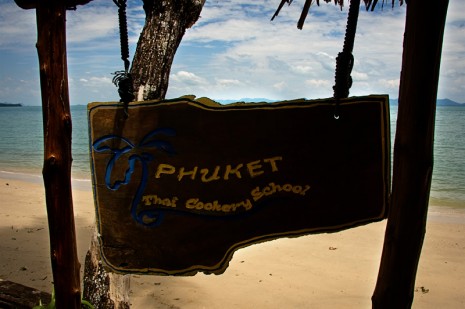 We arrived on a beautiful, quiet and almost secluded beach. There were only 3 others in the class, so it was nice and small, although the facility is set up to handle larger groups. After donning our dorky hats and bright blue aprons, it was time to get started. First up was making a curry paste.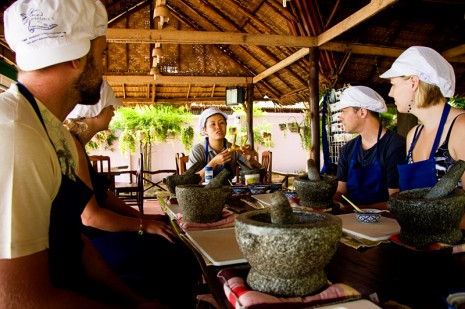 Each of us was set up with our own little station, complete with cutting board, mortar and pestle, and ingredients enough for one. We began by learning about each of the ingredients, and watching as we were shown the correct way to make the paste, and then we all set to work making our own. Grinding all the ingredients into a smooth paste actually took a lot longer than I thought it would, and I can totally understand why you'd use a blender if making a bigger batch.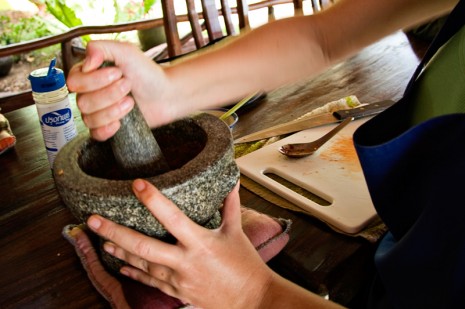 Once we'd all gotten our paste smooth enough, we set it aside for a dish we'd be making in the afternoon and headed over to the demonstration area. For each of the dishes, we would first watch the staff make it, and explain all of the ingredients. We'd then taste theirs to know what the correct dish should taste like, and then we'd each go about making it ourselves.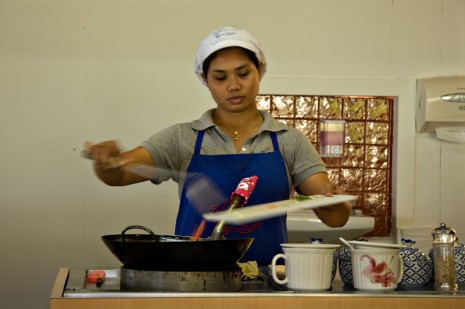 The set up of the cooking school is fantastic. There is a demonstration area with an overhead mirror, as well as at least 20 individual cooking stations. Since we were only 5 we had plenty of room, and lots of personal attention. Not to mention the spectacular view of the beach just steps away.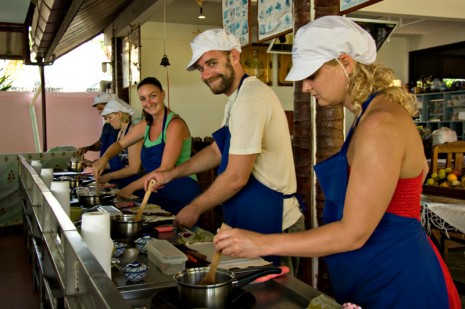 After the curry paste the first dish was Tom Kha Gai – Chicken in coconut milk soup. This was by far my favorite dish of the day and I can't wait to have a kitchen again to make it.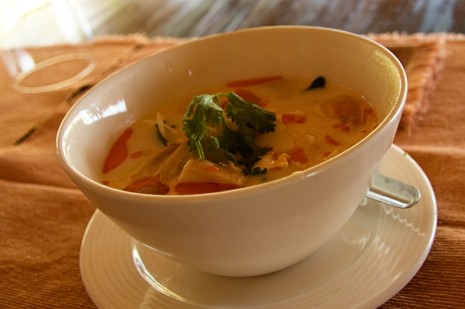 TOM KHA GAI – Chicken in Coconut Milk Soup (serves 2)
1 3/4 Cups
Coconut Cream
1/2 Cup
Chicken Stock
2
Shallots, peeled and crushed
6
Bird's eye chilies, crushed
5
pieces sliced galangal
1
stalk of lemon grass, diagonally cut
2 1/4 cups
straw mushrooms, cut in half (can substitute oyster mushrooms)
3
cherry tomatoes, peeled
3
kaffir lime leaves, torn
3/4 cup
chicken breast thinly sliced
2 tsp
fish sauce
1 tbsp
lime juice
1 tsp
sugar
1
stalk of spring onion, cut into 1 in. lengths – garnish
1 tsp
coriander leaves, coarsely chopped – garnish
1 tsp
chili oil – topping

Instructions

1. Put coconut cream in the pan and bring to the boil. Add shallots, galangal, lemon grass, tomatoes and kaffir lime leaves and simmer until fragrant, about 1-2 minutes.
 

2. Add chicken, continue to cook for 1 minute and season with fish sauce, sugar and lime juice. Simmer for another minute or until chicken is completely cooked.

3. Serve sprinkled with coriander leaves, spring onion and chili oil.
After the soup, we made spring rolls, and a spicy seafood salad. We then took a short break to let the food digest and make room for the 3 remaining dishes. At this point I was pretty sure Mike was going to have to roll me home.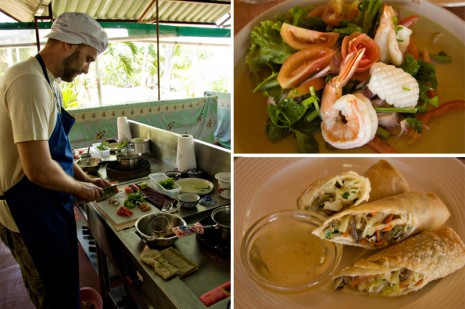 In the afternoon, we took the curry paste we'd made in the morning and made Kaeng Panaeng Moo – Panaeng Curry with Pork, a sweet but mild curry, that's a bit thicker and dyer than other curries. It's made with dried chillies, galangal, lemongrass, coriander root, coriander seeds, cumin seeds, garlic, salt, shallots, roasted peanuts (or peanut butter), and shrimp paste. You combined this with coconut cream, fish sauce, sugar and of course pork.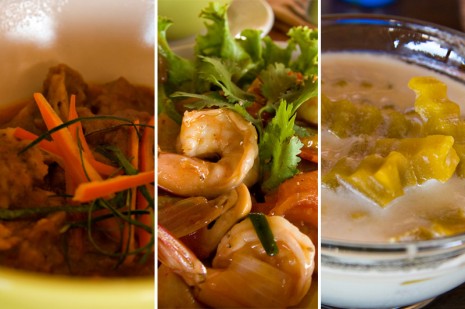 We set this aside to rest while we made Pad Paew Wan Koong – Sweat and Sour Vegetables with Prawns, and for desert Pumpkin in Coconut Milk. Once the final three dishes were finished the five of us sat down to enjoy our creations and take in the view.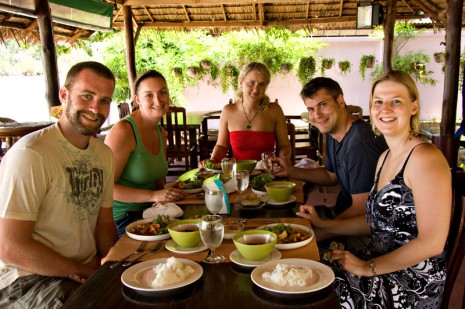 Over all it was a really enjoyable day. If you're interested in the recipes for any of the other dishes just let me know and I'd be happy to provide them. For more information about the Phuket Thai Cookery School you can visit their website for a schedule of classes. Happy Cooking!