Arriving in Sydney, we were lucky enough to be met at the airport by a familiar face. We're used to landing in strange airports and having to haggle with taxis or fumble with shuttle buses to get us where we want to go, so it was nice being met by a friend. Rachelle played tour guide on the way to her and Randal's apartment in Manly, pointing out different neighbourhoods and taking us across Harbour Bridge. After dropping our bags off at their place we went for a much needed lunch, then spent the afternoon wandering around Manly, checking out R&R's hood.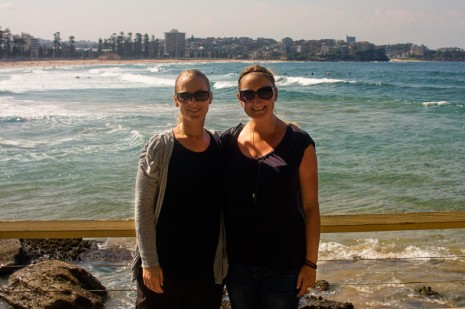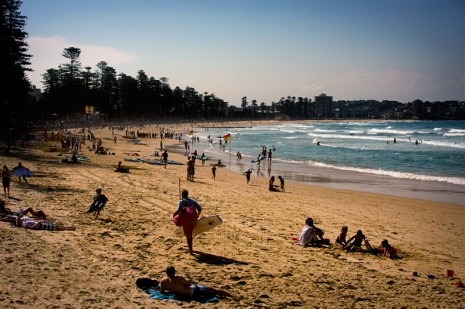 We only spent 5 days in Sydney, and it went by super fast. We didn't get up to much, which is exactly what we needed. We mostly just hung out with R&R… talked… ate… drank… and caught up on the everything that happened the over the previous 10 months. We don't get to hang out with friends from home too often so when we do, we like to take full advantage of it.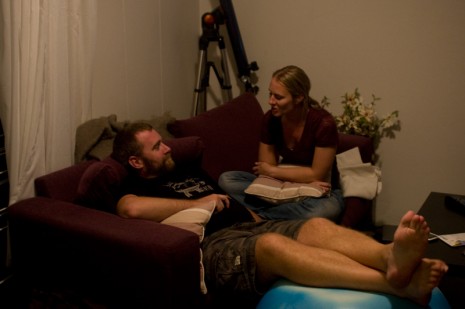 This was also the first time in months we'd been near a kitchen, so rather than eat out a ton we stayed in and cooked a few meals while consuming copious amounts of wine.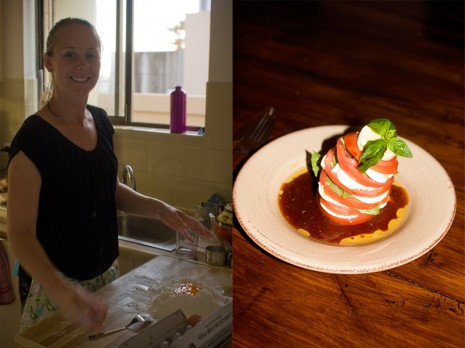 That being said we did manage to get out a couple of times. We were there during Rugby World Cup, so of course took in a few matches at the pub. We also had a night out with Jess, who we met on our last trip to Roatan. She's now working at a dive shop in Manly, so we had a night out with her and a couple of friends.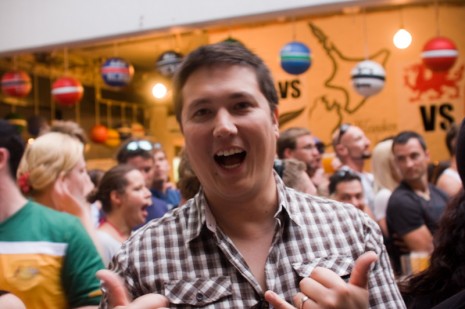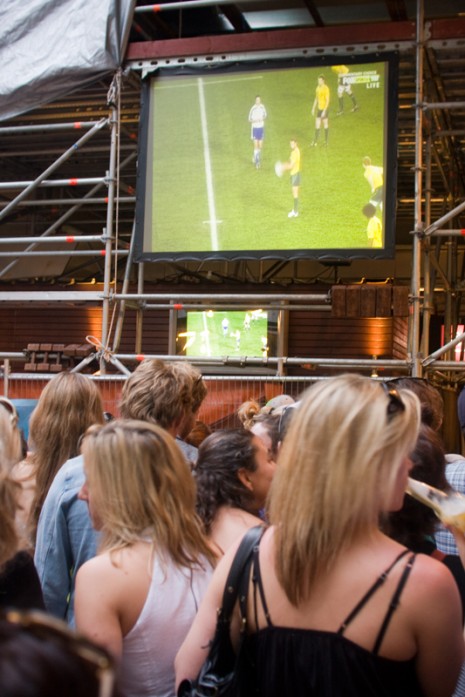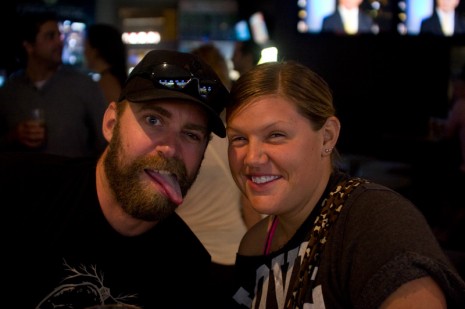 From Sydney we flew up to the Gold Coast where we rented an apartment for a month, about an hour south of Surfer's Paradise. Overall we were pretty surprised at the cost of living in Australia, and had a really hard time finding a monthly rental within our budget. It seems that most people who are traveling long term in Australia do the hostel thing, but being in our 30s and the fact that we actually work on a daily basis, this just didn't seem like the right fit for us. We did spend one weekend in a hostel in Byron Bay, and by our third night we were definitely glad it was our last.
Our apartment on the Gold Coast was great, it was just a little out of the way, in a sleepy little town. Fortunately it was right next to a mall, so we had easy access to groceries, and public transit, which made getting to the surrounding towns pretty easy. Something that came in handy when my laptop died and I needed to replace it.
While on the Gold Coast we checked out a few beaches… made a trip to Surfer's Paradise… visited the Currumbin Wildlife Sanctuary… and spent a weekend down south in Byron Bay.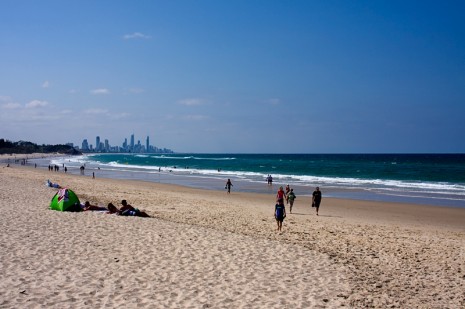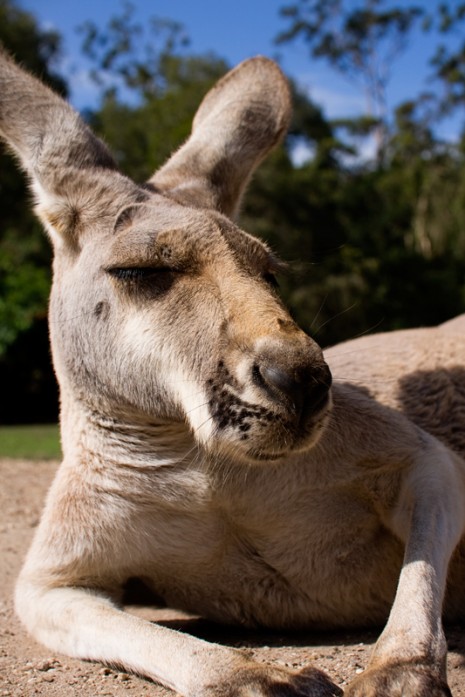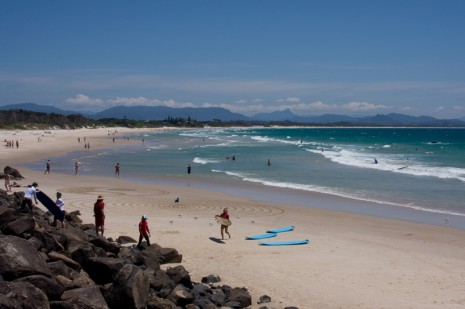 After a month, we hopped another flight, this time up to Cairns. Mike found us a 6 week sublet through www.airbnb.com, which ended up working out great. Dale & Steph picked us up at the airport and showed us around their place in Palm Cove (about 45min north of Cairns). After a quick beer, Mike and I headed back into Cairns for a couple of nights, while Dale & Steph finished packing and got ready for their 6 week trip to Switzerland.
Palm Cove is a beautiful little town, and we loved being walking distance from everything. There are a couple of bars and several really good restaurants, however being such a touristy town, things were quite expensive, so we made use of our sublet and cooked quite a bit.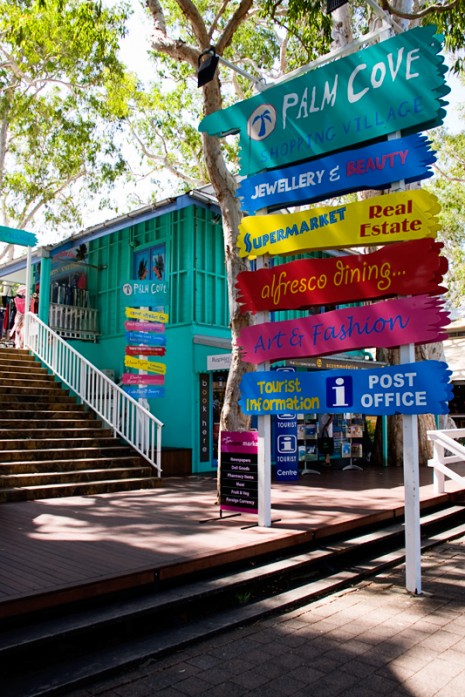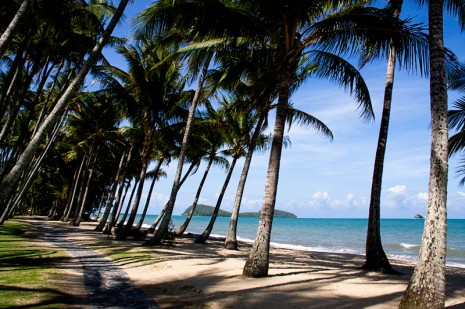 When in the Far North of Queensland, a trip to the great barrier reef is pretty much a must do. And us being divers, we were both really looking forward to getting back in the water. Unfortunately the whole thing was a bit of a let down (review to come in another post) and we walked away feeling like we'd wasted $500 ($255/each).
The rest of our time in Palm Cove was spent laying by the beach, or in our pool, drinking at the pub, and of course working. Being December it seemed like everyone was in a rush to get stuff done in time for the holidays, and before then end of the year. Including us!
For our last week up north, Rachelle and Randal came to visit. We rented a place in Port Douglas and had a fantastic and relaxing Christmas. We hung out in the pool, went diving, hiked through the rain forest, roasted a turkey, and ate & drank a lot… just what you're suppose to do over the holidays! We all flew back to Sydney for New Years Eve, where we attempted to check out the fireworks, but ended up behind schedule so watched them between buildings from a friend's apartment near by.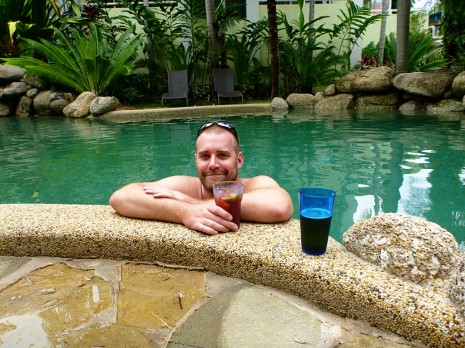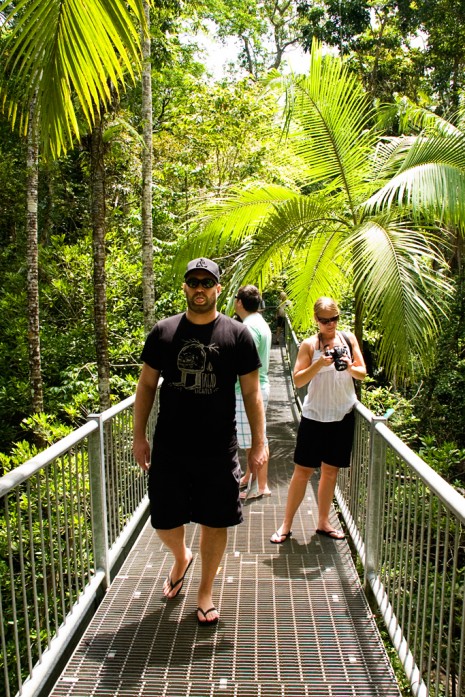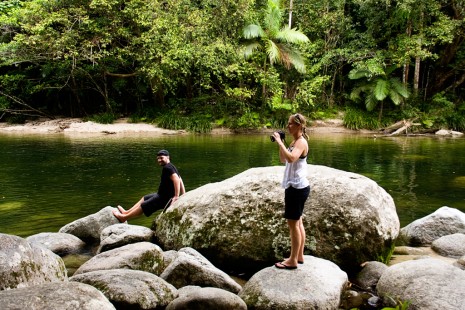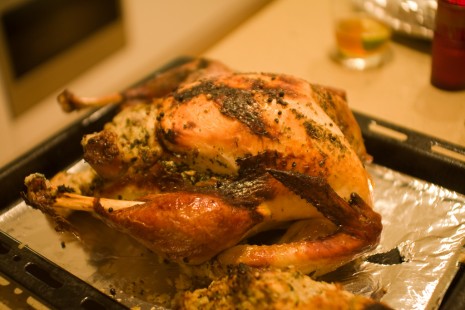 We rounded out our last few days in Sydney relaxing in Manly, before heading to Melbourne for our last week in Australia.
Overall we enjoyed Australia, but felt like we didn't really see much. I realize Australia is a very large country and we couldn't possibly fit everything in, but in retrospect, this is one country where we should have done a bit more planning for upfront. We walked in relatively blind and weren't really prepared for the expense. We also didn't really have an idea of what we wanted to do or see. In the end putting in a 40 hour work week left very little time to explore the country. And the idea of paying $70/night for a hostel left us content to stay put in our sublet.