It's been six months since we started this crazy adventure of ours and arrived in the Philippines. We weren't quite sure what we were getting ourselves into when we landed in Cebu on Sept, 2, but if there is one thing I've learned since we started this trip is that you can do all the research in the world, but you will never know what a place is truly like until you arrive.
It's been an amazing six months. There have been some ups and some downs, and it hasn't always been exactly what we hoped it would be, but I wouldn't trade it for a minute. Mike and I are both very excited about the next phase, and are looking forward to arriving in Thailand after a brief week in Kuala Lumpur, Malaysia. Before we do, we wanted to give you a little recap of our time in the Philippines.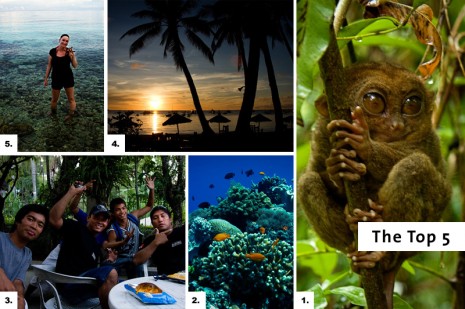 Top 5 things we've done in the Philippines:
5. Renting a motorbike and exploring the island of Siquijor
4. Chilling out with a couple of sundowners on the beautiful White Beach in Boracay.
3. Drinking with the dive boys in a road side shack and experiencing 'tuba' (palm wine) for the first time.
2. Mike learning to dive, and getting to share the amazing underwater scenery of Apo Island.
1. Getting up close with the cute little creature known as the tarsier.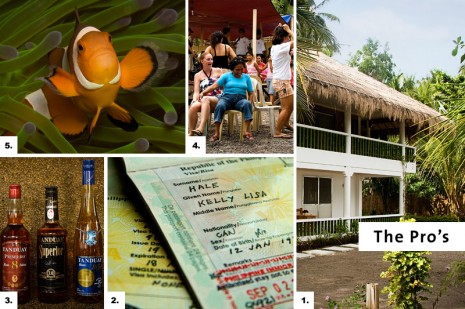 5 "Pro's" to living in the Philippines:
5. The Diving – Diving in the Philippines is known to be some of the best in the world, and we've been lucky enough to enjoy it for 6 whole months.
4. Smiley, happy, English speaking people – Unless you're traveling to remote locations in the Philippines you'll have no trouble finding someone who speaks English and as a culture, Filipinos are upbeat, cheerful and friendly. They will go out of their way to make you happy, they will invite you into their homes, feed you, and overwhelm you with hospitality.
3. Cheap Rum & Beer – For about $6.50 CAD you can get a really good bottle of rum. For about $3.50 you can get a not too bad bottle of rum… and for about $1.15 you can get a pretty crap bottle… As for beer .70 cents will get you a nice cold frosty one.
2. Easy Tourist Visas – One of the main reasons we chose the Philippines to begin with was their easy Tourist Visa. On arrival you are given 21 days which you can easily extend to 59 at any immigration office (or like us you can apply for 59 days before you even get there). Then every 59 days you simply head to an immigration office, pay a fee and they'll stamp you for another 59 days (up to a max of 2 years). Unlike many other South East Asian countries, you can do this all without having to leave the country. Although the fees do start to add up, it's still cheaper than traveling to a neighboring country every couple of months.
1. Our beach house – Although our place wasn't the norm, and it did take us quite a while to find, we loved it, and will probably have a hard time finding something comparable in other Asian countries. Especially on the beach. There are not a ton of rental options in the Philippines, but they do exist if you ask around.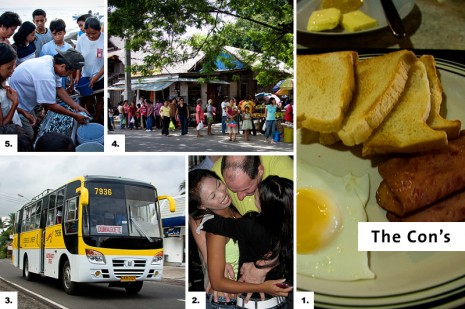 5 "Con's" to living in the Philippines:
5. Difference between social classes – No matter how long you stay there, or how little money you make, rural locals assumed that because we were white we were rich. This made it really hard to actually get to know them and form solid friendships. Money was always the elephant in the corner.
4. Lack of infrastructure – Once you get outside of the few major cities things become quite rural. Internet connections get slower and ATMs become few and far between. For people on a short vacation these things aren't such a big deal, but when trying to spend an extended period of time in one country these things can be a problem, and definitely limited where we were able to travel/live.
3. Transportation – Although getting around in the Philippines isn't hard, it can take a while, and compared to other South East Asian Countries it can be quite expensive. Domestic flights can be found to most major destinations, however expect to spend a couple hundred dollars. If you prefer to travel like the locals, things are definitely cheaper, but be prepared to spend a lot of time waiting. Also finding out schedules and time tables can be challenging, as there are few online resources, and often schedules published in newspapers are wrong. Be sure to ask someone, in fact ask several people, as most Filipinos would rather tell you the wrong time, then admit they don't know the answer.
2. Lack of English speaking people our age – During our six months here we met a handful of really great people, but it was definitely a struggle. The majority of foreigners we met in the Philippines tended to be in their late 50s and either German or Swiss. They were usually married, or dating REALLY young Filipinas, and while we know this isn't specific to the Philippines, it definitely stands out because they are pretty much the only foreigners we saw. (With the exception of Boracay)
1. The food – Sure we had a few really good meals, but as a whole, the food of the Philippines, was a pretty big let down. Most of it was quite bland, and there was definitely a lack of variety and ingredients. No fresh herbs or spices and lots of canned ingredients and packaged seasoning mixes. We had high hopes for fresh sea food given that the country is made up of more than 7000 islands, however we soon found out that pretty much everything is sent to Manila for export, and whatever is leftover is then packaged, frozen and sent back.

What it cost us to live for 6 months in the Philippines:
Accommodation
– 1 month of hotels while we looked for a place
$1395
– 1 month in a studio cottage that turned out to be too small
$450
– 4 months in a 2 bedroom beach house
$3300
Internet
– Installation Fee
$25
– Monthly Fee (x12 months as we had to pay the full year)
$300
Diving
– Mikes Dive Certifications (Open Water, Advanced & Nitrox)
$1131
– 90 dives throughout the six months between the two of us
$3200
Food, Booze & Beer
– For the first month we ate out for all meals
$1125
– Apx. weekly grocery bill (x20 weeks)
$1300
– Eating out apx 2-3 meals a week (x20 weeks)
$1400
Mini Getaways
– Siquijor (3 days)
$300
– Boracay (7 days – including flights)
$1335
– Moalboal (3 days)
$350
– Zamboaguita (3 days)
$400
Misc.
– 1 month 125cc motorcycle rental
$145
– Sightseeing Day Trips (x2)
$100
TOTAL
$16,256
*Disclaimer – These numbers are on the conservative side, as we haven't accounted for every single expenditure. We've bought a few pieces of dive gear, had a couple of big party nights, and have most definitely missed a few things along the way. However they are a pretty good average of 6 months of living in the Visayas region of the Philippines.
Also please remember what works for us, might not work for you. Mike and I are not budget travelers. We are not 21 years old, backpacking through Asia, staying in $2/night hostels, eating as cheap as we can. We are 30 year old professionals, freelancing for clients back home in Canada, and taking advantage of the cheaper cost of living in South East Asia. Internet is a necessity for us, and as such we've chosen to make a few sacrifices in what we would normally look for in a vacation destination in order to live this lifestyle.
All in all it's been an amazing six months, and I can't believe how fast it's gone by. We have so many great memories and have met some fantastic people, some of whom we hope to run into again along the way. The Philippines has definitely treated us well, although ultimately we decided it wasn't quite right for us. So, we're continuing the search for our own perfect piece of paradise, but with so many places to explore it might take us a little while to find.
So… for now… goodbye Philippines!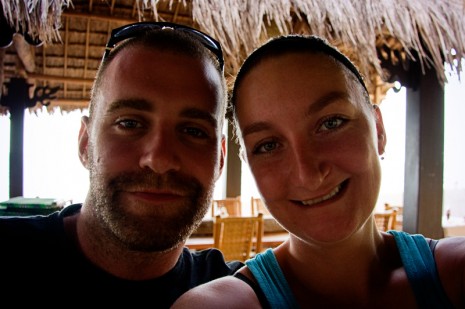 (picture number 4 in the "con's" section was not taken by me, it is from 'teepeedub' on flickr)