While doing a bit of research on getting our 90-day visas for Thailand, we read a few negative reviews of the Thai Embassy in Manila, so instead decided to try our luck in Kuala Lumpur. On Tuesday morning we flew to Manila where we had a 10 hour layover before flying to KL… yes that's right 10 hours. I'm not sure what the other terminals of the Manila airport are like, but the newly opened terminal 3 is not a very enjoyable place to spend 10 hours. Most of it is still under construction, however it didn't seem like any work was actually being done. Everything was boarded up and there was not a construction worker in sight. There are very few options for food, so if you're flying through this terminal, try and eat before you get to the airport.
We finally arrived in KL at around 12:30am, and by the time we got to our hotel it was just after 2am. We had an early start the next morning as we wanted to make sure we were at the Thai Embassy before 9, in order to avoid the line. The whole process went pretty smoothly and we were told to come back the next afternoon to pick up our passports.
Our hotel was situated in the heart of KL's Chinatown, which is pretty much tourist central. As a result most of our time was spent close to there, which was good, but I think if we return to KL we'll look at other options, as after four days it was a little bit busy for us.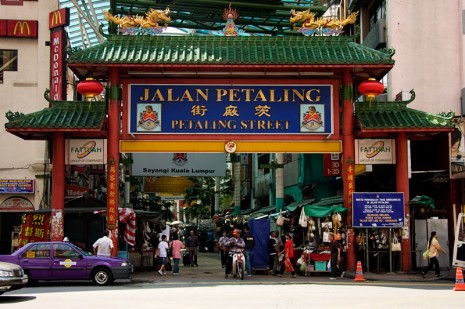 Our first afternoon we wandered around Chinatown a bit, and then took the LRT (light rail transit) to a nearby mall in KL. I'm not really sure what the Asian fascination with malls is, but there are a surprising number of fantastic restaurants in them, and we actually had a hard time deciding where to have lunch. We settled on Indian and a couple of Tiger beers, and were not disappointed.
Late afternoon we headed to the Reggae Bar for a couple of pre dinner drinks. Decked out with wall to wall pictures of Bob Marley this bar is one of the major expat hangouts in KL. The beer is a little more expensive than the street stalls, but if you're looking to meet other travelers this is the place to go. For dinner we went to a very cute and absolutely fantastic restaurant called 'The Old China Cafe'. It's a dimly lit restaurant filled with antique furniture and feng shui mirrors. The food was great and I would absolutely recommend this to anyone visiting KL.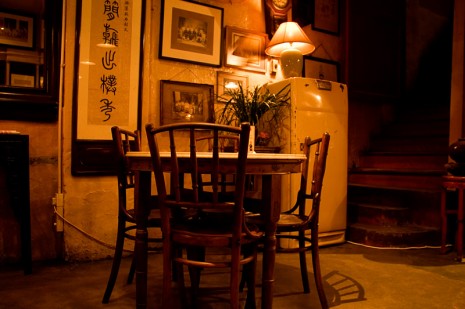 The next day we had a little bit of a work day. We both had a few emails to catch up on and some work to get done, so we hung out in the hotel most of the morning. Mike had a few more things to do than me, so I took the opportunity to get out and explore a little bit of Chinatown. I wandered around, scoped out a few choices for lunch and then headed to the Central Market.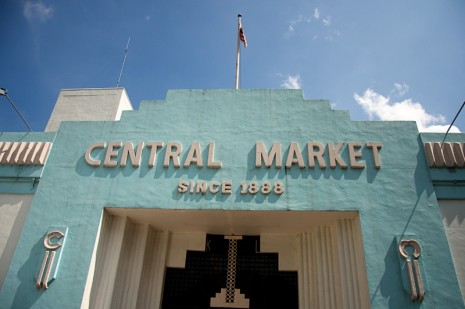 The Central Market, which was built in 1888, has since been converted into a shopping center for Malaysian Arts and Handicrafts. It's filled with beautiful shops carrying all kinds of amazing souvenirs. I had to practice a lot of restraint, and managed to get out of there without purchasing anything. I think if we had been closer to returning to Canada, I probably would have spent far too much money, but come back with some amazing finds.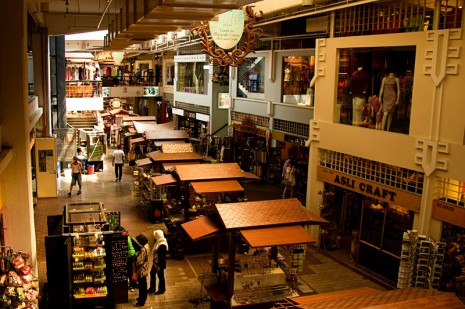 That afternoon we had lunch at one of the food stalls on Madras Lane, a dark, dank walkway that cuts through the middle of Chinatown's wet market (a traditional market selling fish, meat and other goods). There was a little bit of a language barrier when we ordered 'Curry Laksa' but somehow ended up with 'Pork Ball Mee' (similar to vietnamese pho), but it was still really good, and I was amazed at the amount of business people spending their lunch-break there.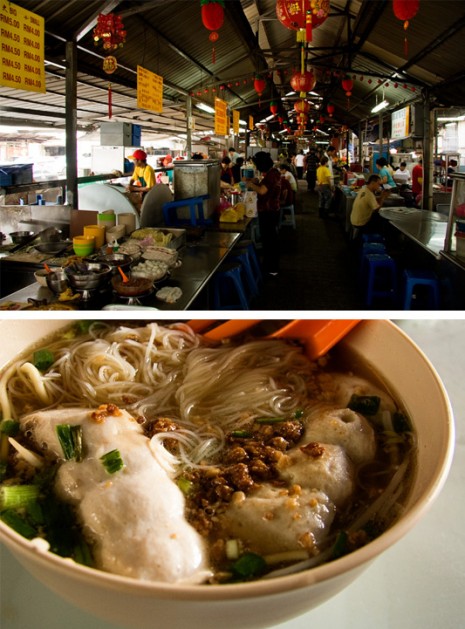 After lunch we went to pick up our passports from the Thai Embassy and then headed back to our hotel to do a little more work before dinner. If by now you haven't figured out that the majority of what we did while in KL was eat, well then you obviously haven't been to KL because the options are endless. For dinner we went to one of the many open air restaurants on the streets of Chinatown where we enjoyed some yummy satay and Tiger beer while we watched the people go by.
The next day we set out to see the world famous 'Petronas Towers'. We had been told you had to get there early to get one of the thousand free tickets, but we got there just before 11, and managed to get one of the last ones. We weren't able to go up until 4:15 so we had a lot of time to kill. We wandered the KLCC Suria mall attached to the towers as well as the grounds surrounding them. We had lunch, a few beers, and somehow the time just slipped by.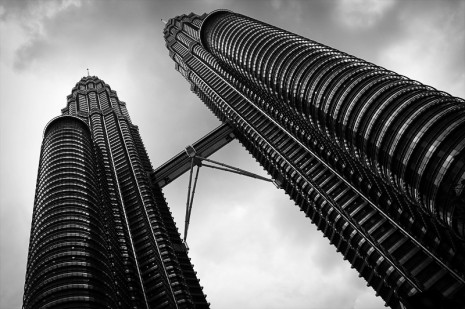 The actual tour up to the Skybridge takes only about 20mins. They show you a quick, and cheesy, 3D video about Petronas (Malaysia's oli and gas company) and the towers, followed by 10 mins on the sky bridge that connects the two towers. Although not the most exciting tour around, the fact that it was free was a big plus.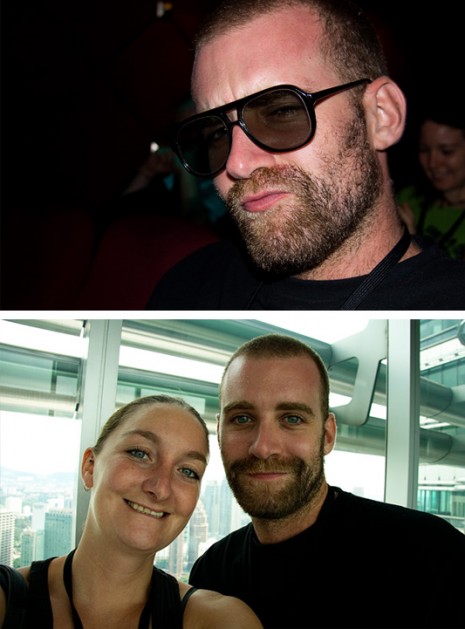 From the towers we headed to Bukit Bintang, KL's fashionable shopping district where we had planned to have dinner at the nearby Jalan Alor (KL's most famous hawker food street), however after a couple of beers and and appy we were full and decided to head back to Chinatown to have late dinner at one of the street stalls there.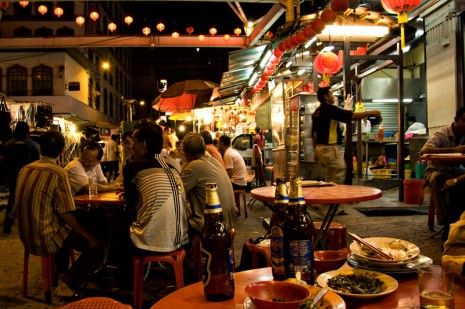 The next morning we set out for what has been undoubtedly one of the best days we've had of this adventure so far. The Kuala Gandah Elephant Sanctuary. Located about 2 hours from Kuala Lumpur, this place is definitely worth the trip. We spent almost the entire day there, feeding, riding and hanging out with the elephants. It was truly an amazing day. I'll be writing a post dedicated entirely to Kuala Gandah over the next couple of days, but for now here's a teaser photo.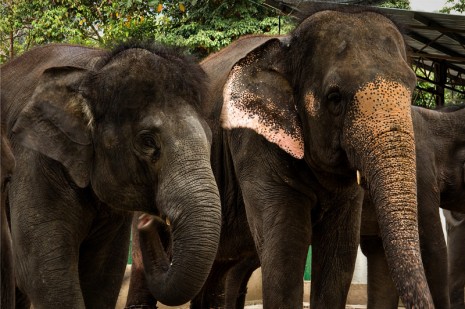 Our final night we took it easy after an exhausting day with the elephants. A quick dinner, a couple beers, and early to bed. Sunday morning we were awoken bright and early by a phone call from the front desk informing us that our ride to the airport was 45 mins early.
Check back next week to see what we get up to in Thailand.