Our visit to the sanctuary to the Kuala Gandah Elephant Sanctuary was unforgettable, and the highlight of our six months in Asia so far. While doing some research online I came across the email address for a man named Razali…. also known as The Elephant Man. Not really knowing what to expect I sent him an email and enquired about a trip to the sanctuary. He quickly responded and we arranged to met up saturday morning.
During the two hour ride out to the sanctuary, Razali told us story after story of the elephants and the history of Kuala Gandah. This man is an endless source of information and knows pretty much everything there is to know about elephants. We arrived at the sanctuary just before ten and joined the staff for a quick breakfast before being introduced to the elephants. Most of the activity happens in the afternoon, so all of the organized tours from KL arrive between 12 and 1pm, but because we were there early and with Razali we were able to get involved almost as soon as we arrived.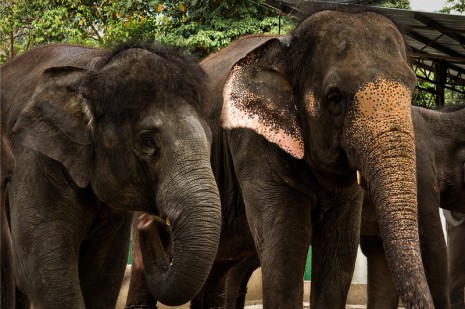 There were a couple of local groups there, all Malaysian, but still only about 20 people in total and we all got to take part in the morning feeding of the elephants. After which Razali took us to a restricted area, which houses a couple of injured elephants. Mike and I got to help prepare a bottle for the youngest and newest arrival at the sanctuary, a two year old elephant who's back leg has been injured so badly he was unable to stand. We took turns bottle feeding him while he wrapped his trunk around our ankles, arms and even fingers just as a human baby would do. It was inspiring, sad and amazing all at the same time, he was so cute and helpless… but full of curiosity. I can definitely say that I've ever experienced anything quite like it.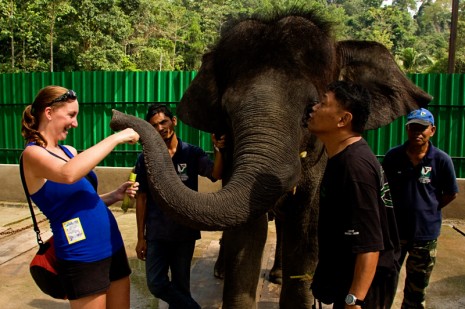 After lunch the bulk of the tour groups started to arrive. We watched a short video about the Elephant Capture & Translocation Unit, and then again participated in the afternoon feeding. About half way through, Razali snuck us off to go feed Mek Bunga, one of the original elephants involved in the relocation of several wild elephants, who has since gone blind from cataracts.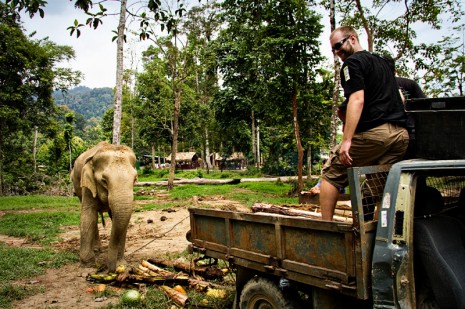 We felt so lucky to be able to be so involved with the elephants, and get to help out where few tourists ever do. If you're at all considering a trip to the sanctuary, I truly hope you will consider contacting Razali.
Also if you are coming from North America, Australia, Europe or any western county and would like to help out, please contact Razali before you arrive in Malaysia and he will be able to let you know what sorts of supplies the sanctuary or the translocation unit is in need of.
Although funded by the government, money can often get tied up in paper work and some times little things that you and I take for granted can be of great help to the team. For example a couple from New Zealand recently brought with them 8 waterproof pouches to hold gps units and walkie-talkies during relocation treks into the jungle.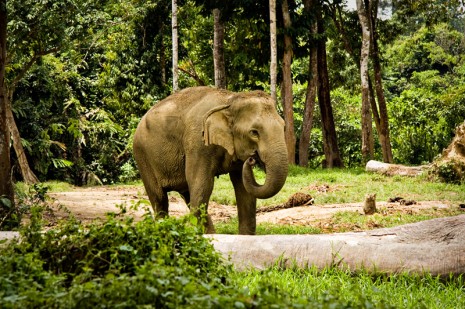 The History of Kuala Gandah
Opened in 1989 by the Malaysia Department of Wildlife and National Parks, Kuala Gandah is dedicated to the continued protection of the endangered Asian elephant.
Over the years due to economic development, these elephants, which at one time could be found all over peninsular Malaysia, have been isolated to smaller and smaller pockets of jungle. As a result these elephants regularly crossed paths with humans resulting in large numbers being shot, poisoned, electrocuted, or trapped in steel snares which almost amputated them as they struggled to escape. By 1972, it was estimated that the elephant population was down to only 500.
In 1972, the Protection of Wildlife Act was passed, preventing the killing, hunting, confinement or trade of elephants and other endangered species, and in 1974, the Malaysian Government established the Elephant Capture & Translocation Unit. The team's duty is to track down, sedate and relocate problem elephants from areas where their natural habitat is being constantly encroached on by humans and transfer them to more remote jungle reserves and National Parks.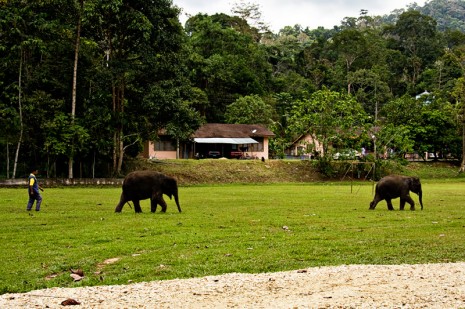 In 1989 the unit was given some land within the Krau Game reserve, from which to operate a base. Today there are 32 full time and 6 contracted staff living and working at the center, as well as 14 elephants, some of which are being trained to replace the older elephants that help in the translocation process of the wild elephants.
As well as being a base for the translocation team, Kuala Gandah also aims to promote public awareness of the plight of the Asian elephant, and to support research into elephant translocation and conservation. The center also looks after orphaned and injured elephants to help ensure their continued survival.
The center is open for visitors daily from 1 to 5pm, and almost any tour company in Kuala Lumpur can arrange this. However for a more personal and unforgettable experience contact Mr. Razali, also known as the Elephant Man.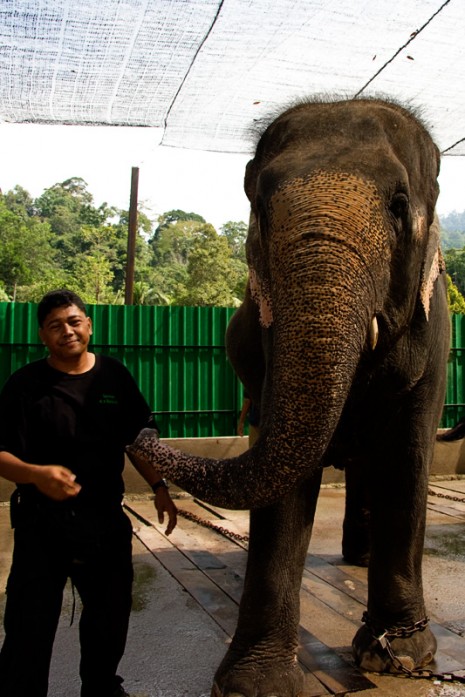 Mr. Razali has been a friend to Kuala Gandah since its opening, and though not a paid staff member Razali has been instrumental in helping the sanctuary survive. Until 1997, the sanctuary was unheard of by the general Malaysian public, but was in desperate need of financial support. Razali organized the media, tour guides and travel agents, suggested & created activities, and led surprised visitors to the sanctuary, all in an effort to get the word out.
Razali has also been part of several expeditions with the Elephant Capture & Translocation Unit. A former member of the Malaysian VAT69 Commandos, he has immense experience with the jungle and has gone to great lengths to secure donations and equipment to help with the success of the until. To date approximately 400 elephants have been successfully relocated.
Click here for more pictures from our trip to the Elephant Sanctuary.
For more information on Kuala Gandah visit http://www.myelephants.org/ and to contact Razali – The Elephant Man, email jungletrekker@wildmail.com