On our way up to Mexico for our friends' wedding, we stopped off in Belize for 2 weeks to relax and do a little more diving. Having only dove Roatan in the Caribbean, we were looking forward to diving another location for comparison.
When we arrived in Placencia, we didn't realize it was coming into low season and rainy season. For most of our 2 weeks, it's rained a little on some days and a lot on others. We're also often the only people in the beachfront resort hotel we're staying in. So we've had a staff of 10+ taking care of us each day as we lounge by the pool when the weather cooperates.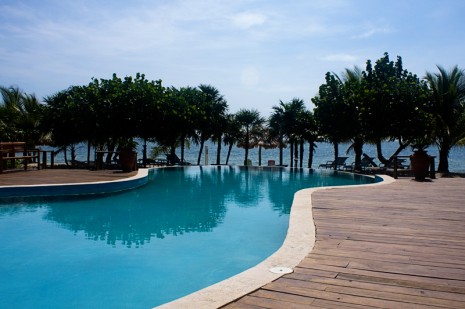 We're staying a 2 minute drive out from the village in Placencia. It's quiet, and a bit removed from even the slow pace of town. There's little to do but sit on beach chairs watching the pelicans flying by, or going for a swim in the pool. Our tans have vastly improved.
Last Friday we went for a day of diving with Seahorse Divers around Laughing Bird Caye. 30 minutes away by speedboat; we dropped off some snorklers at the Caye, then proceeded out to Pompion Caye Wall. It's was a steep and deep wall dive down to 30m and the wall continues down into the blue. We saw 3 large moray eels, a couple big lobsters and crabs, and a few barracudas. We also saw a huge eagle ray cruising below us while doing our safety stop.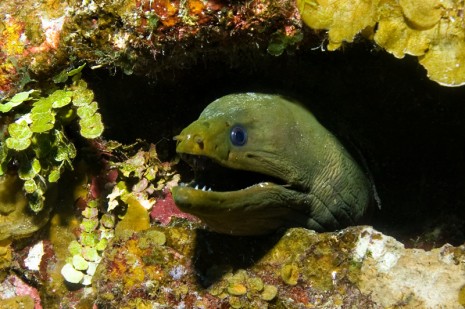 During the quick trip back to Laughing Bird Caye for lunch some dolphins showed up to play in our wake. The boat was stopped and we grabbed fins and masks and jumped into the water. They weren't shy in the least, swimming right below us and circling us as we free dove down a few meters to get closer. For about 10 minutes we chased them around the boat while they made their clicking chatter noises and played amongst us. Swimming with wild dolphins has been on our wish list for a long time and it really made the day memorable.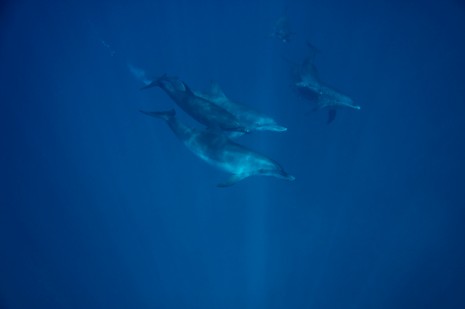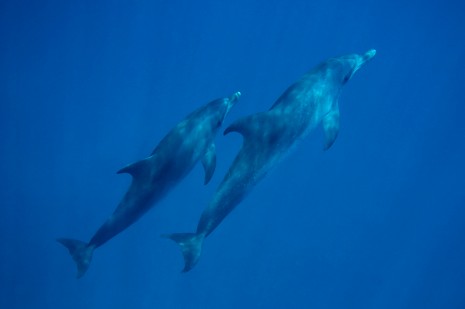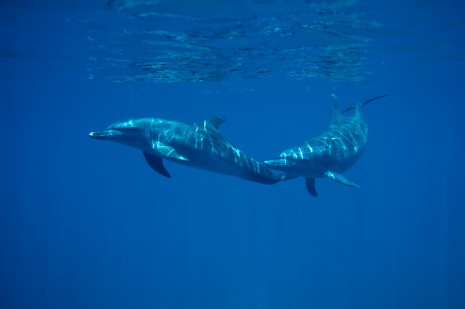 After lunch the boat took us around the other side of Laughing Bird Caye and we dove the sloping reef and sandy patches. Visibility had worsened considerably to the point where it looked like it was snowing underwater. We found a few arrow crabs, cleaner shrimp, and a toad fish which I've never seen before.
A week of laying in the sun and running from the clouds later, we came back to Seahorse to do the whale shark dive. A few days before the full moon and until the quarter moon each May the snappers spawn which draws the whale sharks to Placencia to feed. We rode over some choppy waves for an hour to Gladden Spit, checked in with the rangers and then jumped into the blue searching for schools of snapper and hopefully a whale shark! We dropped down to about 20m and swam our asses off… against current, trying to keep up with the schools of fish. We saw snappers spawning below us, but no whale sharks drifting up from the blue.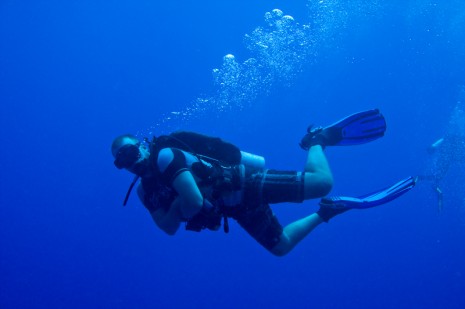 We surfaced and headed into the shallows for lunch. We had a bite to eat, a little snorkel around the sandy patches, and then a call came over the radio that they had spotted a whale shark on the surface. We sped out to the site and jumped into the water with our masks and fins. 10m away was a 3-4m whale shark with four or five remoras tagging along. It was only there for a minute and we swam frantically to keep up with it in on the choppy surface before it dove back down into the blue.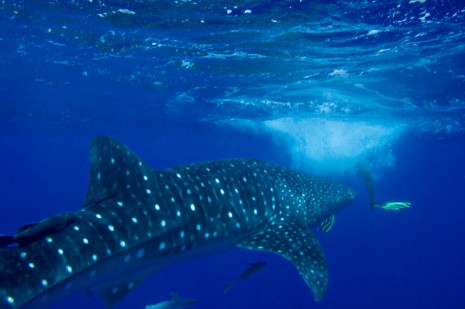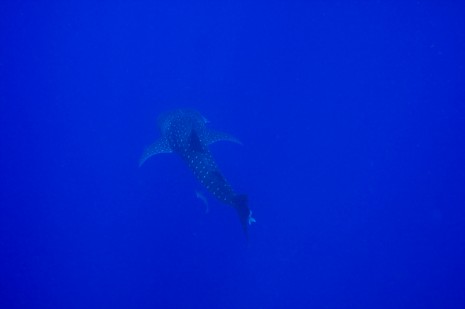 We did our last dive hoping to meet up with the whale shark, but it wasn't meant to be. We saw schools of horse eyed jacks, and some big barracudas and trigger fish were swimming along with us, but apparently we'd only snorkel with one of the giants that day.
We headed home elated, but still shy of our goal of seeing a fully grown whale shark at depth. Halfway there, one of our engines ran out of gas and we had to hang out in the shelter of a nearby group of mangroves while we waited for some additional fuel to be driven out to us, rather than risk the possibility of losing the other engine in the rougher waters. An hour later we were home, happy, and exhausted.
We're hanging out in Belize for a couple more days before heading up to Belize City to fly over to Mexico. You know, it's whale shark season in Mexico from June till September. ;)