Costa Rica was definitely more expensive than a lot of the places we've been over the last year and a half. That being said it also offered the most convenience and more modern amenities than anywhere else… which I suppose could be a plus or a minus depending on what you're looking for. For us it was just what we needed. After a year on the road, and a particularly busy three months we were quite happy to find a nice place to rent and stay put for six months.
Before I jump into the numbers part of this post I want to remind everyone that we're not budget backpackers. Yes you can do Costa Rica a lot cheaper than we did, but since this isn't just a vacation for us, it's a lifestyle, we often make choices that aren't inline with other travelers priorities.
A comfortable place and a decent internet connection are always first priority on our list of requirements, which often means we stick to more touristy places and don't venture off the beaten track as much as other travelers. When we arrived in Costa Rica we both had a lot of work lined up and knew we'd be spending the majority of our days online, so it was even more important than usual.
We rented a two bedroom, three bathroom condo similar to any modern condo you'd find in Vancouver (or other large North American City), for $1000/month. We had satellite TV, cable internet, a pool, a dishwasher, in-suite washer/dryer, and even an Xbox. Sure we weren't getting the 'authentic Costa Rican experience', but unless you're traveling to some of the more remote areas, you're probably not getting much of it either.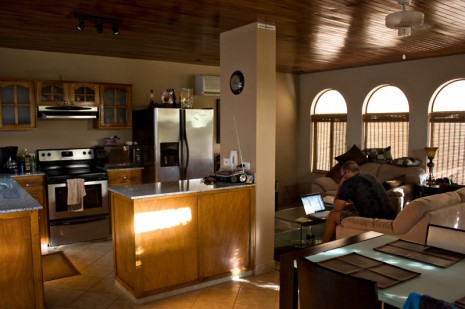 We based ourselves in Tamarindo, or Tama-Gringo as many people call it, which again, for many travelers, may not be the first choice. Some argue that it's too over developed, and full of tourists but so are a lot of places in Costa Rica. For us it had a lot of the things we were looking for and was a pretty good fit, but after six months we did come to realize that it still wasn't quite perfect… and thus the search for our little piece of paradise continues.
Tamarindo Pros & Cons
Pros:
Cons:

Although arguably a little over-developed, for the most part Tamarindo is still a small laid back town.
There are plenty of restaurants and bars, so you don't get bored of eating at the same place all the time.
The beach is long and beautiful, with parts that are relatively empty if you want to get away from the crowds.
There are 3 supermarkets in town which make grocery shopping really easy. Automercado is a huge American style supermarket with lots of imported foods, and good quality meats and produce. Rarely if ever was there something we wanted that we couldn't find. They even have Clamato!
Easy transportation to other parts of the country, as well as the border for visa runs, and an international airport only an hours drive away.
Plenty of things to see and do when we weren't working, like surf lessons, and ATV tours.

The diving was expensive and not very good. We only went once in Tamarindo, and twice up north in Playas Del Coco. After six months we couldn't wait to get back in the water.
We found it quite hard to meet people and make real friendships. We're not really surfers and we did spend a lot of time working from home. There are lots of tourists who are only down for a few days or maybe a week, and most expats didn't seem overly interested in making new friends. After six months we still weren't considered "locals" and although some bar staff and servers did start to recognize us, conversations rarely went more than a few words.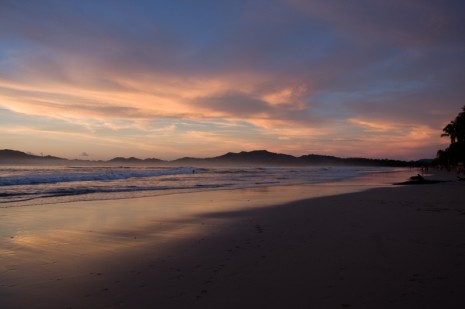 Cost of Living 6 months in Tamarindo, Costa Rica
Accommodation
– 5 days in a Hotel on arrival
$279.87
– 6 month in a 2 bedroom apartment (includes utilities)
$6323.04
– A couple of weekends away
$878.76
Groceries/Meals/Drinks
– Groceries (large shops paid by credit card)
$2267.78
– Food & Drinks (Eating out and smaller shops paid in cash)
$9728.11
Activities
– Diving Tamarindo & Playa Del Coco – 6 dives x2 people
$647.46
– Other tours (hiking, zip line, surf lessons, ATV)
$562.45
Misc.
– Mike's dive watch repair
$102.62
– Transportation (shuttles & taxis)
$363.06
– Business Costs (Internet Hosting, Domain names, Gear etc.)
$656.92
– Insurance
$365.40
TOTAL
$21,175.47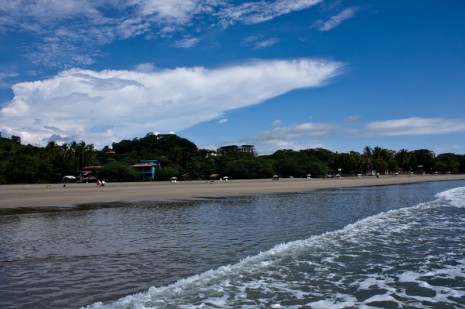 '