Ah, paradise. This is what we were searching for. After 2 months in the Philippines, looking high and low for the ideal apartment, hut, beach house, or resort to call home… we've finally found it.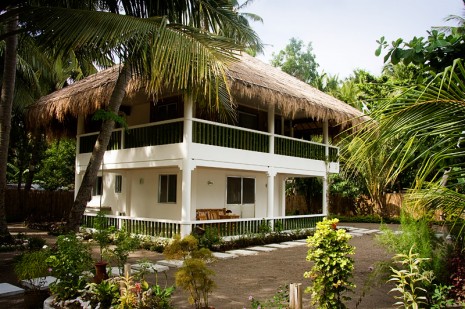 Puerto Citas is just minutes down the beach from the El Dorado Beach Resort where we were previously staying. When we first arrived in Dumaguete, we scoured the Dauin area looking for places to stay because of the active diving scene in the area. Our first impression of Puerto Citas from the beach was, "That looks expensive." Shame on us for not looking into it further! As Kelly mentioned in her last post, we ran into the previous occupants after they had decided to move out and they corrected our assumption. It's actually a reasonable price considering the size of the place… and that's what we've come to value in the last 2 months. For $400 a month we had rented a 1 room studio, which is a steal compared to rent in Vancouver… but after a month or two, that room became small and uncomfortable. With us living and working in the same space, it quickly became a challenge since there was just no area to relax or when necessary, be productive. So, we opted to double our rent and move out of the resort and into a larger space.
It's only been a day or two since we've moved and I'm already ecstatic about the new house. It's 2 floors, furnished, with 2 bedrooms, 2 bathrooms, a big kitchen, and comfortable areas inside and out to work and relax. Kelly captured it perfectly today saying, "This is the biggest place I've lived in since I moved out of my parents house!" We're right on the beach and as I type this I can hear the waves rolling in. The owner is a fantastic Swiss/Filipina named Cita who has gone out of her way to make sure that we're comfortable and made our move from the resort effortless.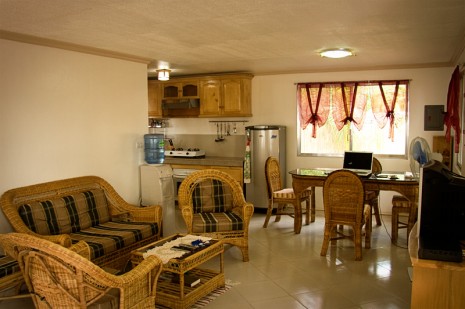 We had Smart Wireless come set us up with a 356k broadband internet connection yesterday and I hooked up a wireless router to the antenna, so we're 'laptop on the beach' enabled already. Still not amazing internet speeds by North American standards, but a huge improvement in connectivity from our previous arrangement and more than sufficient to let us work effectively.
One concern of ours was the occasional power brownouts that occur every so often. There's no backup generator here, but given the friends we've made at El Dorado, I'm sure we can use theirs and wander down the beach with a laptop when work deadlines and power issues collide. From what I understand, recently there's only been 1 power outage every month or so. Not nearly what we were lead to believe initially. There's some voltage issues in the evenings, but nothing that the laptops aren't equipped to handle.
So, enough nerd stuff. Back to the beach house… we have 2 huge patios, one on each level that wraps around three quarters of the house. Some fantastically comfy sofas and chairs to lounge in.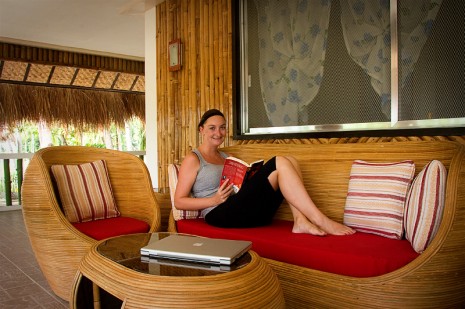 A real kitchen table and an outfitted kitchen to cook our own meals in. And should we get lazy, we're a short walk down the beach to both the El Dorado and Pura Vida resorts where the meals are good and the beers are cold.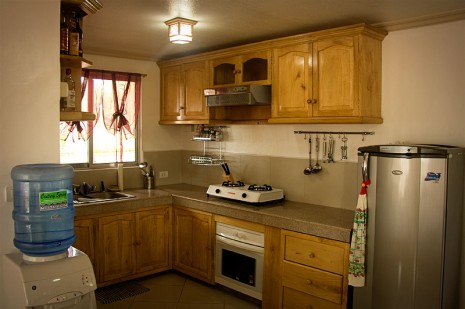 There's no air conditioning, just fans and the constant ocean breeze. However we've been meaning to try to use less air conditioning, because otherwise you never really acclimate to the tropics and I'd rather not be sweating every time I step outside the house. Did I mention that our tans are shit? We've been spending far too much time hibernating indoors. We'll tough it out for a few nights and then we'll be used to it.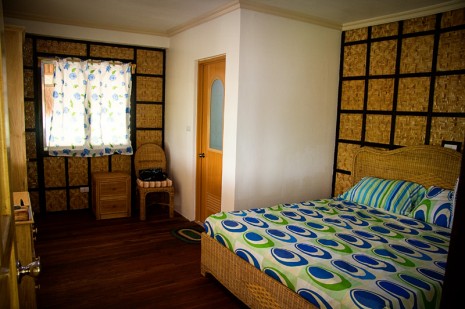 We have hot water to shower and lots of water pressure. Bottled drinking water for the water cooler is delivered for 28P and the cooler also has both hot and cold water. There's even a bread delivery service in the area if we want to order a few loaves and buns. We're close to the local market for fresh vegetables and every Wednesday we can go to the Malatapay market for almost anything else food oriented we might need. Since leaving the resort, we don't have shuttle service into Dumaguete anymore, but we've often hired a trike or hopped on a jeepney instead. Cita's brother has kindly offered to drive us into town if we need to make any larger purchases as well. It's a family run operation around here.
We don't have a pool anymore, but the ocean will more than suffice. It's been calm and over 32 degrees Celsius every day lately. Plus I'd like to get in some more active swimming since I've had little to no exercise lately (What, me run? In this heat?) and the meals aren't exactly low in calories in these parts. Filipinos do love their fried foods and sweets, while when cooking at home Kelly and I have an affinity for sauces.
I guess that's it. We're settled. We're loving it. We've got extra space. To all our peeps and family back home, come visit. Life is good. We're really, truly content at the moment.